Where do the ingredients for our animal feed come from?
Our products are sustainable, innovative, and unique. But what do they contain, where do we produce and from where do we obtain our raw ingredients? Here, you can take a closer look at our ingredients.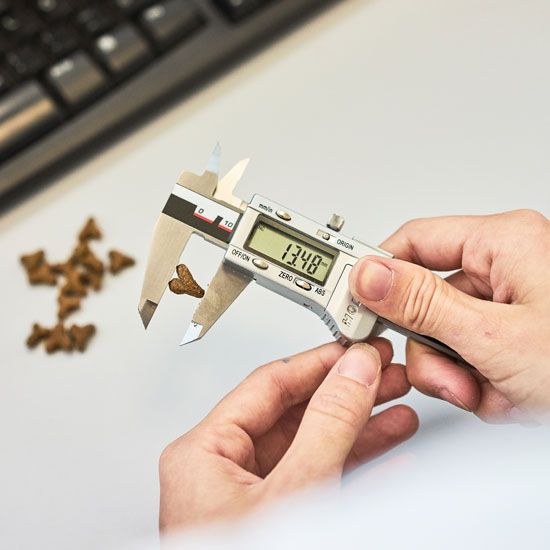 Developed and produced in Germany
For our sustainable recipes, we rely on alternative protein sources derived from peas, lupin beans, insects or humanely bred chicken and salmon; so there's something for everyone! We developed our dog and cat food together with experienced nutritional scientists to ensure that your four-legged friend receives all the nutrients they need.
Our simple recipes are made using exclusively high-quality ingredients, which we obtain primarily from regional suppliers here in Germany. All incoming ingredients as well as the finished products are thoroughly inspected in our in-house accredited laboratory to ensure that everything is truly in order. The independent DLG TestService GmbH has also tested our entire production process and awarded us with the assessment "VERY GOOD".
Are the ingredients grown organically?
We get this question very often. Sustainability is often identified as being organic and yet we do not source our ingredients from organic cultivation - and there are good reasons for this. One of the reasons is that we cannot completely guarantee the availability of raw materials for the ingredients we use in a consistent organic quality. Unfortunately, as yet, there are still not enough suppliers in Germany. We could import the organic ingredients, but we strive to avoid long transport routes that would increase CO2 emissions. This is why we prefer to use raw ingredients that meet our high quality standards - even if they are not organically grown.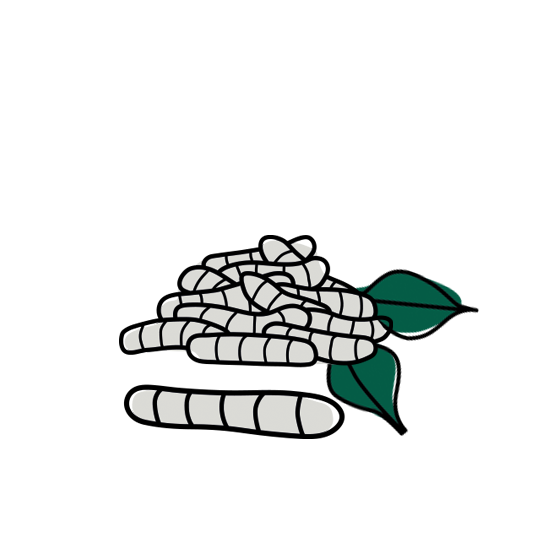 Insects
The insects used in our InsectDog and FairCat Safe are specifically bred for our food in Europe. We use the larvae of the black soldier fly. The insect farm operates under a holistic approach, which aligns with our food production. The insects are kept in a hygienic environment and reproduce through natural propagation.
They are fed fed a plant-based diet using products that are no longer suitable for human consumption but are hygienically impeccable. This is exactly in line with our sustainability philosophy. In addition, raising insects produces fewer greenhouse gases and requires less land and water than raising cattle, for example.
In order to be able to work with the insects, they are first stunned using cold water. Even at lower temperatures, insect go into what is known as hibernation. They are then processed in a swift procedure. The animals are not made to suffer. The batch of insects is then processed to remove moisture and oils, leaving the insect protein powder. Would you like to learn more about our insects? Then take a look here.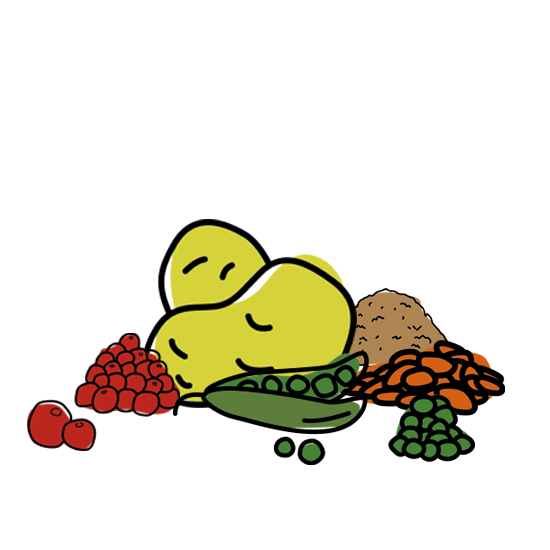 Vegetables
Where appropriate, we round off our recipes with delicious vegetables, herbs and fruits. Peas, lentils and potatoes are not only high-quality sources of protein but also contain plenty of minerals and vitamins. Your pet will not lack anything.
What you don't get in the bag:
Our recipes only contain the things your pet really needs.
We refrain from using wheat and added sugar
We use no artificial colours, flavours or genetically modified ingredients
We do not carry out any animal testing in the development of our food
What else does it contain?
Nutritional additives
We do not add any artificial colourings and flavourings to our super premium food products. The nutritional additives primarily involve vitamins and minerals that are essential for your dog or cat. In other words, your pet needs these nutrients in order for their body to function properly. A failure to provide these via food can result in deficiencies. When determining the amount of various nutrients to be used, we follow international recommended dietary guidelines.
Beet fibre
The beet fibre used in our recipes is a dietary fibre that will regulate your dog's digestive system. It is very rich in fibre.
Antioxidants
Antioxidants are necessary to prevent the fats, or rather the fatty acids, in the food from going rancid. We use "tocopherol-rich extracts of natural origin" as antioxidants. This involves plant-based extracts from rosemary for example, which helps to stabilise the products.
L-carnitine and taurine
In principle, unlike cats, dogs can create carnitine and taurine in the body itself and are thus not reliant on an external supply via food. However, in specific cases, particularly in demanding metabolic situations, an additional supply via food may be sensible. To ensure an optimum supply for your dog, we have decided to add L-carnitine and taurine to our feed.
Taurine is an amino acid which is important for sight and to protect the heart. Most importantly, taurine has an antioxidant effect on free radicals in the body. The purported link between taurine and strength and activity when consuming energy drinks, among other things, is a myth. This myth stems from the high concentration of this amino acid once found in bull testicles. There is no scientific evidence, however, that taurine boosts activity or causes aggression.