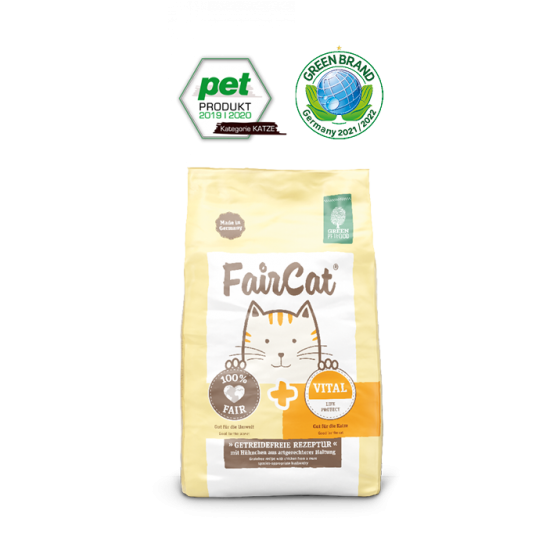 FairCat Vital
cereal-free recipe
with chicken from a more species-appropriate husbandry
from 3.79 €
GO TO PRODUCT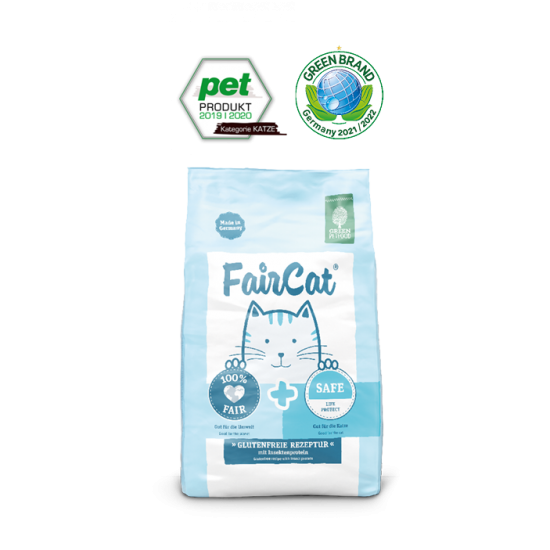 Every morsel of our FairCat dry foods is exactly what your feline needs. Our all-in-one food products provide all the nutrients your cat needs for their everyday adventures. What's more, our
FairCat products
will also make you and your kitty real climate heroes!
Wait, what? That's right, FairCat is the first climate-positive cat food! By preserving forests in Tanzania, we compensate for 25% more CO2 than we emit. This makes all of our FairCat products climate positive. We know that this is not the only argument for picky kitties, however, so we've also developed two different types of dry food.
FairCat Safe
lets your cat enjoy a bowl of
insect protein
and
chicken from species-appropriate husbandry
. Both sources of protein are particularly environmentally friendly, as insects produce less CO
2
during breeding and our chickens are locally sourced. The recipe of FairCat Safe is not only environmentally friendly and tasty, it's also gluten-free - perfect for the sensitive adult house cat. In addition, the unique Life Protect mixture also supports fitness and well-being. For when it's time to go in and out and in and ... ah yes, out again.
Your cat will enjoy all nine lives in perfect shape thanks to FairCat Vital! This all-in-one cat food also supports fitness and well-being thanks to our Life Protect mixture, which is composed of valuable antioxidants, prebiotic inulin and important taurine. The grain-free formula of this dry cat food contains only animal protein from species-appropriate husbandry. We obtain the chickens from regional farmers, who all adhere to the husbandry standards of the German Animal Welfare Association. A good deed for your cat - and the world!
Even if your kitty is fussy and loves variety in their bowl, FairCat is the right choice for you: our wet and dry foods are perfectly matched and can be easily combined.
What are you and your cat waiting for? Become climate heroes now with FairCat!