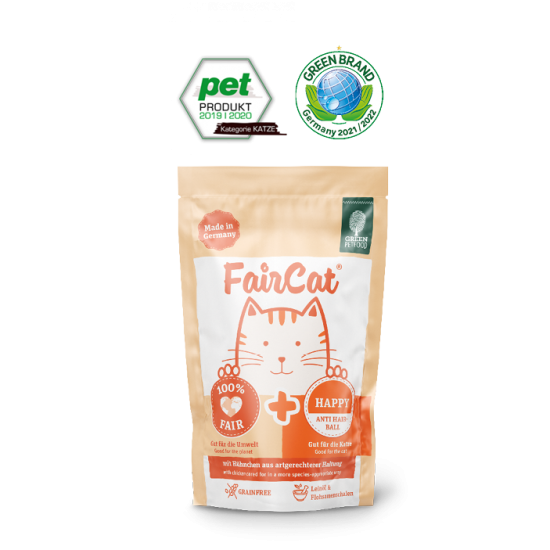 FairCat Happy
with flaxseed oil & psyllium husks
8 x 85g for 10.32 €
GO TO PRODUCT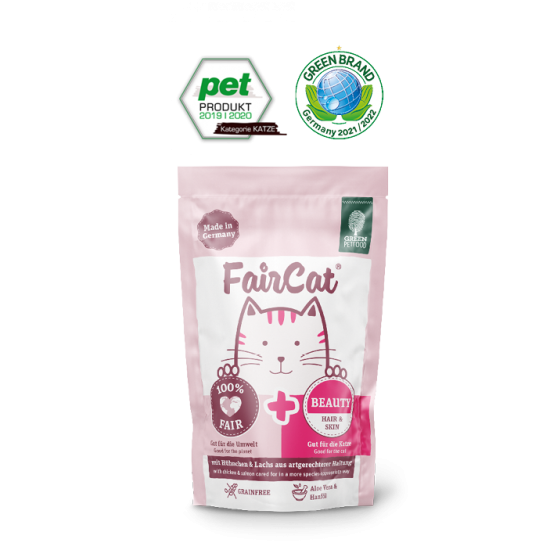 FairCat Beauty
with aloe vera & hemp oil
8 x 85g for 10.32 €
GO TO PRODUCT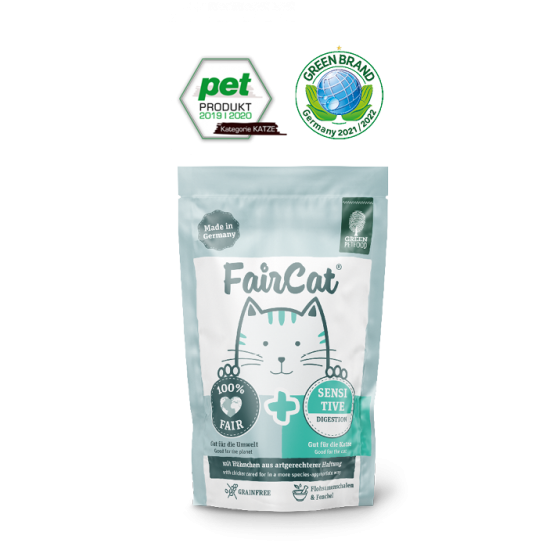 FairCat Sensitive
with psyllium seed husks & fennel
8 x 85g for 10.32 €
GO TO THE PRODUCT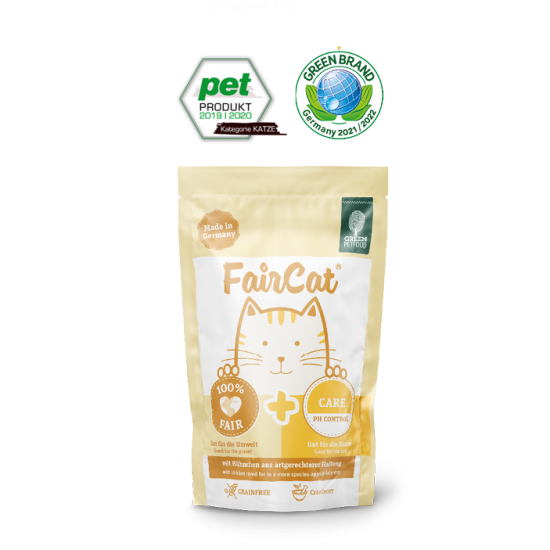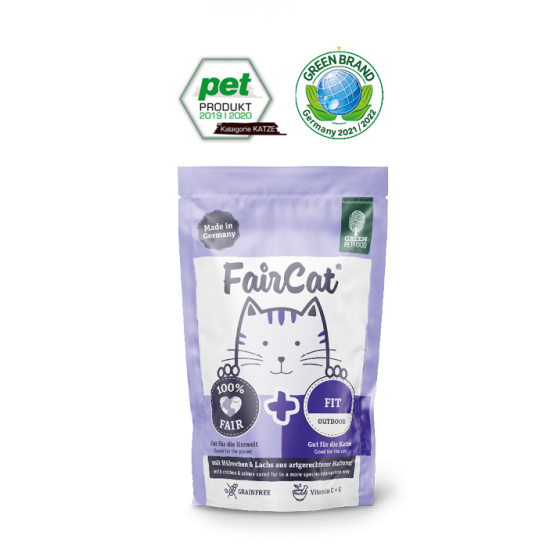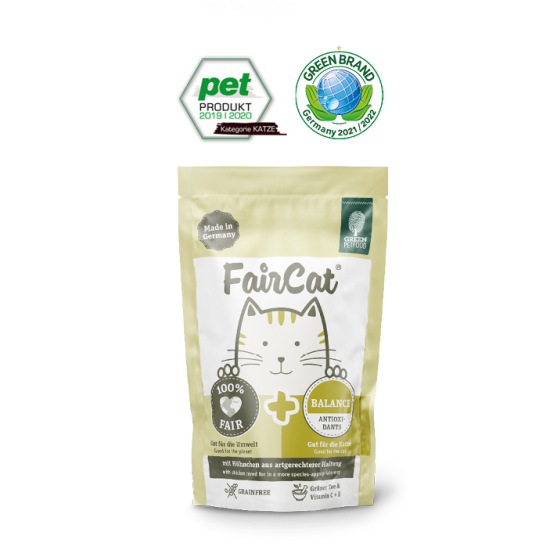 FairCat Balance
with green tea & extra Vitamin C and E
8 x 85g for 10.32 €
GO TO THE PRODUCT
You're spoilt for choice!
Thanks to our
FairCat
wet food range, we can really offer the right food for every kitty: the little ray of sunshine, the beauty queen, the rebel, the sensitive soul, the athlete and the chilled-out dude. Is your cat a little bit of all of the above? No problem, just try our handy multipack! By the way, all of our all-in-one food products are grain-free.
With FairCat Happy with linseed oil and psyllium husks, cats can say goodbye to annoying hairballs - thanks to the anti-hairball effect. The grain-free recipe will not only give your fluffy friend a tasty treat, it is also good for the environment.
Mirror, mirror on the wall... of course your kitty is the fairest of them all! In order to make sure your cat can really show off, we have prepared
FairCat Beauty
with hemp oil and valuable fatty acids that will make your grown-up diva's skin and coat glow. Aloe Vera rounds out the menu nicely. The grain-free recipe also provides protein through salmon and
chicken raised through species-appropriate husbandry
.
Everyone is a little sensitive now and again! If your cat's tummy isn't running smoothly, our FairCat Sensitive will help them to relax. Psyllium husks and fennel are particularly easy to digest and aid healthy digestion.
Who doesn't love to be pampered? Your cat is no different! Spoil her with the grain-free recipe used in our FairCat Care: it contains a delicious broth and methionine, which reduces the risk of urinary stones. The concentrated power of the cranberry ensures a particularly good taste.
Mewling at the door in the morning until it opens, a fight with the neighbour's tomcat at noon, and a rendezvous with the neighbour's kitty in the evening? Whether outdoors or indoors: with FairCat Fit, your kitty is prepared for the next adventure. The grain-free formula provides your house or garden cat with an extra dose of vitamins C and E as well as L-carnitine, so that every day can be an adventure.
Ohmmmmm ... with our FairCat Balance, you can give your velvety pet a little bit of serenity. Green tea and extra vitamins C and E protect your cat from free radicals. The grain-free recipe including antioxidants is not only good on the yoga mat, it's also great in your kitty's bowl.
Last but not least: all of our FairCat products are climate positive! Thanks to our forest conservation project in Tanzania, we compensate for 25% more CO2 than we produce. Are you and your feline friend ready to go? Join us on our green mission and help us - and our FairCat wet food range - make the world a little bit better every day!