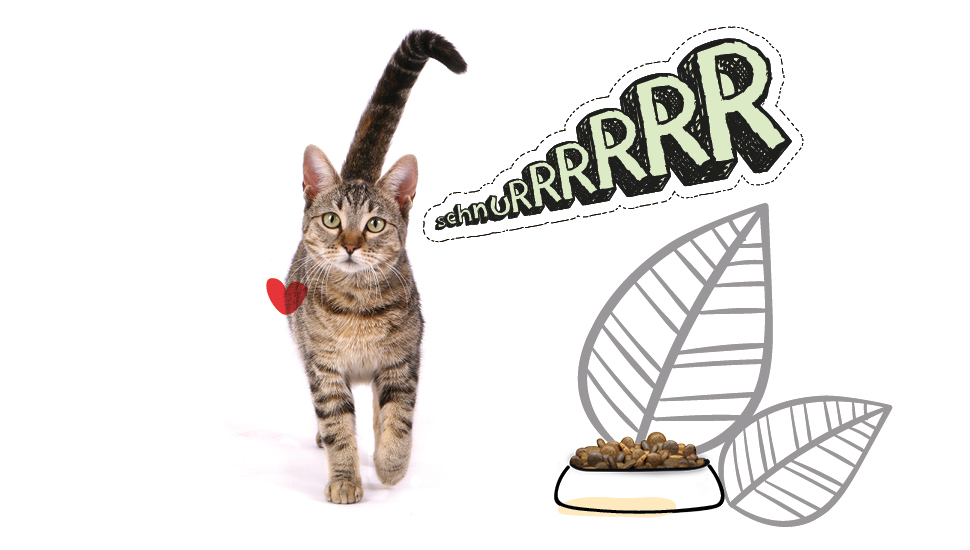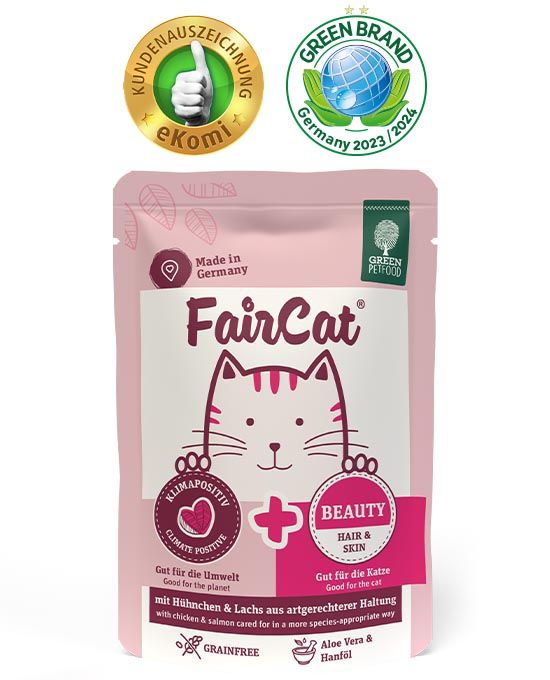 FairCat Beauty
with aloe vera & hemp oil
8 x 85g for 10.32 €
GO TO PRODUCT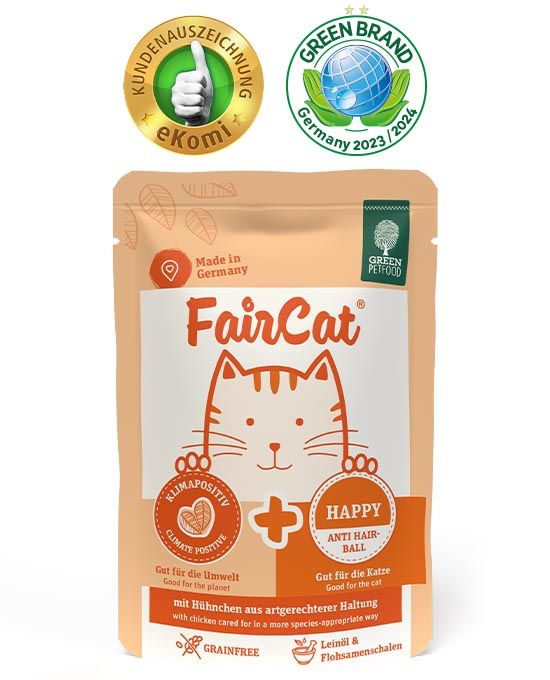 FairCat Happy
with flaxseed oil & psyllium husks
8 x 85g for 10.32 €
GO TO PRODUCT
FairCat Sensitive
with psyllium seed husks & fennel
8 x 85g for 10.32 €
GO TO THE PRODUCT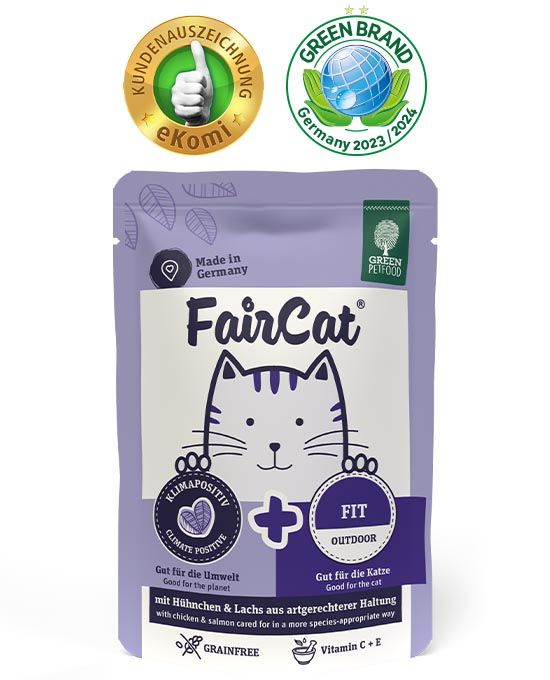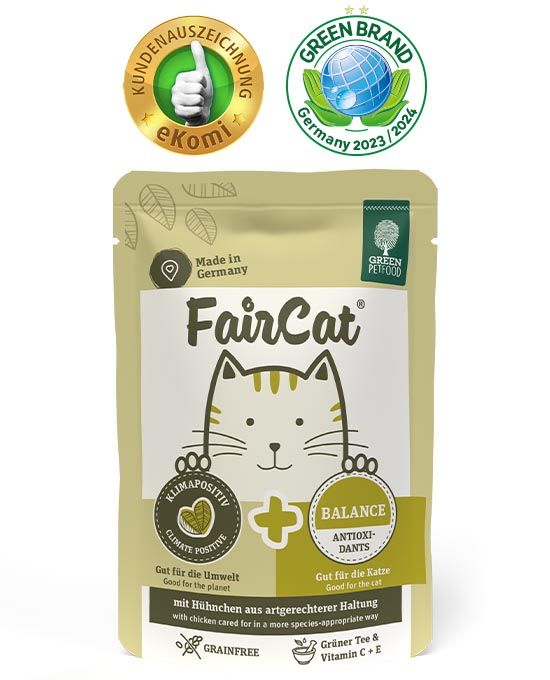 FairCat Balance
with green tea & extra Vitamin C and E
8 x 85g for 10.32 €
GO TO THE PRODUCT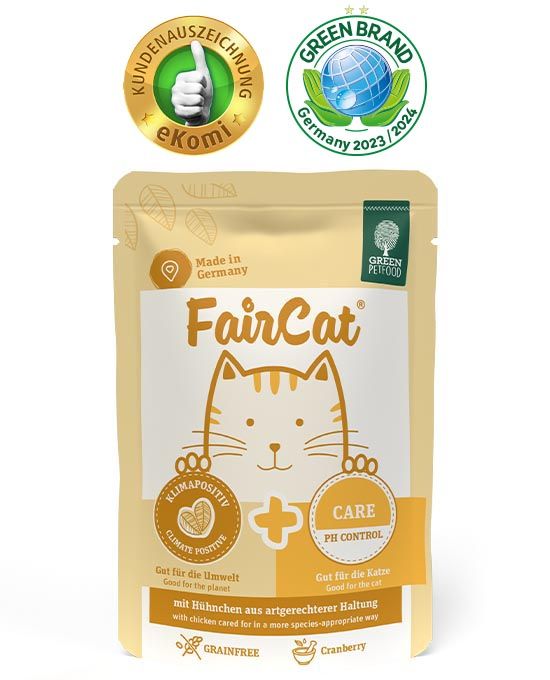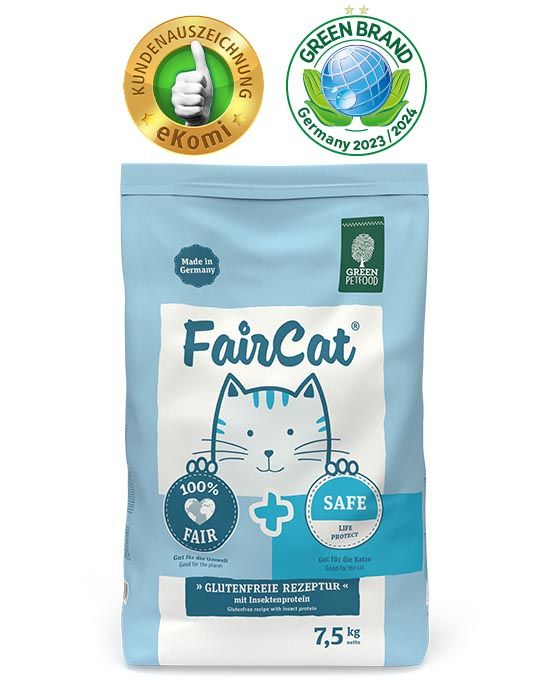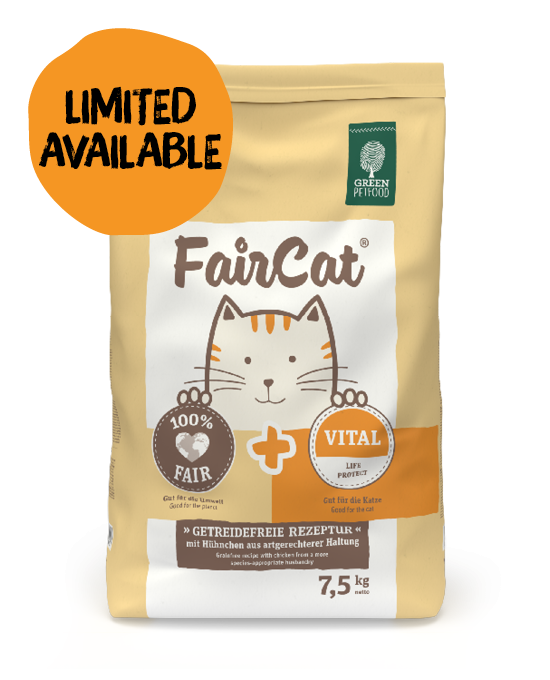 FairCat Vital
Grainfree recipe
with chicken from a more species-appropriate husbandry
from 3.79 €
GO TO PRODUCT
First cat food with positive environmental balance
Fairness, happiness and love went into FairCat! In our cat food we use only super premium ingredients. It goes without saying that we do not conduct any animal testing in developing our food and do not include genetically modified ingredients. We only process the best ingredients. With FairCat you can be sure you are buying certified quality developed in Germany.
True to our motto "greenify our future", we attach great importance to sustainability and climate protection. That is why we support selected social and ecological development projects. We offset all of our carbon emissions via a forest conservation project in Tanzania! We thus not only help to produce oxygen for our beautiful world but also to protect habitat for endangered animal species. And we are always one step ahead: we offset more CO2 than necessary to cover our actual carbon emissions – 25 percent more, to be exact.
Important criteria for cat food from Green Petfood:
Positive environmental balance thanks to forest conservation in Tanzania
Easy mixing concept for both dry and wet food
No added wheat
No added artificial colours and flavours
No added genetically modified ingredients
No animal testing
FairCat contains fairness, happiness, and love! In our cat food, we use exclusively ultra-premium ingredients. These products are - of course - developed without the use of animal testing, and are produced without genetically-modified ingredients. We only use the best ingredients, as high-quality and sustainable protein sources. With FairCat, you are purchasing a tried-and-tested quality product that has been developed in Germany.
Important criteria for Green Petfood cat food:
Positive carbon footprint thanks to forest preservation in Tanzania.
Simple blended concept of dry and wet food
Free from wheat and added sugar
Free from artificially added colourants and flavourings
Free from genetically-modified ingredients
Not tested on animals