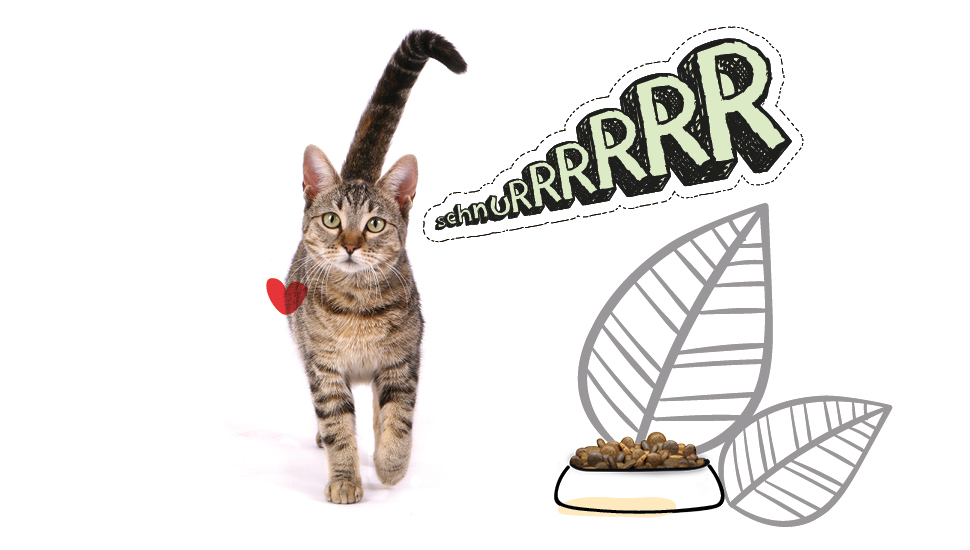 FairCat contains fairness, happiness, and love! In our cat food, we use exclusively ultra-premium ingredients. These products are - of course - developed without the use of animal testing, and are produced without genetically-modified ingredients. We only use the best ingredients, which are as regionally sourced as possible, including salmon and chicken from a more species-appropriate husbandry and insects, as high-quality and sustainable protein sources. With FairCat, you are purchasing a tried-and-tested quality product that has been produced in Germany.
Important criteria for Green Petfood cat food:
Positive carbon footprint thanks to forest preservation in Tanzania.
Contains exclusively animal protein from a more species-appropriate husbandry
Simple blended concept of dry and wet food
Free from wheat and added sugar
Free from artificially added colourants and flavourings
Free from genetically-modified ingredients
Not tested on animals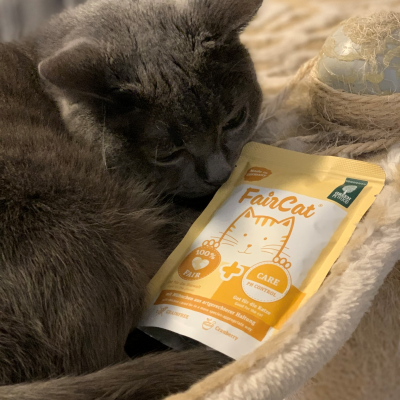 Eileen with Johnny, Phoebe and Lipton from Herten
"With two cats and a dog, it was important to me that all three get good, sustainable, environmentally friendly and, in part, vegan food – plus grainfree, sugarfree and with no experiments on animals. Sustainability should not have to stop where animal feed starts, and that's what makes us happy to have found Green Petfood. Johnny is very picky but is also a glutton and a gobbler. I just have to tear open the bag of FairCat, and he is already completely excited and impatient. I am glad that his favourite type of FairCat is good for the bladder and kidneys and that he gets an optimal supply of all the important vitamins and proteins he needs."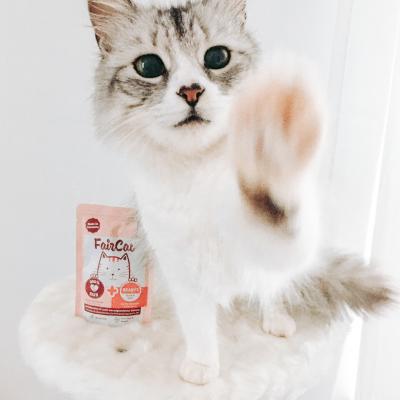 Sylvie with Lys ad Skína from Braunschweig
"I try to live sustainably and decided to become a vegan three years ago. When I adopted my cats, Lys and Skína, we knew we would try everything to make their footprint as small as possible, and it was also important to me of course to find a catfood that would cover all their needs for a healthy life. We feel really great with Green Petfood, and it is simply good to know that this brand always tries to find the best solutions, in a totally honest and upstanding way, because – in the end – with animal food, it is always about which animals end up in it too. All of the criteria that were important to me are covered – and, on top of it, it looks great, and both cats love all the different types. Purrfect."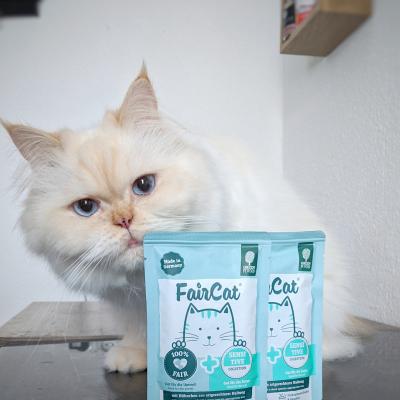 Teresa with Anubis, Timi, Fynn and Abby from Lutherstadt Eisleben
"As the owner of 4 furry felines, it is important to me that my cats receive only high-quality food. With FairCat Sensitive, I have found a catfood that not only is made of high-quality ingredients, but also is ideal for the sensitive digestion of two of my cats. We try to make our lifestyle as sustainable as possible and are glad that we don't have to make an exception for catfood. The concept of species-appropriate animal husbandry in the food fits right into our daily lives."
Karlo loved FairCat right from the beginning!
Carolin H.