Dog Toy DIY – 7 ideas for you and your dog!
Playing is an important part of social communication for dogs. Crucially, your pet's mental and physical capabilities will be enhanced through interacting with different objects, such as toys. Puppies have a particular need for play in order to learn about social interaction, communication, controlling feelings and sharing. But dog owners do not need to constantly spend money on new toys because homemade dog toys are easy to make yourself with a couple of simple tools. This solution is better for both your wallet and the environment. That's why we are now going to show you 7 ways to make a homemade dog toy.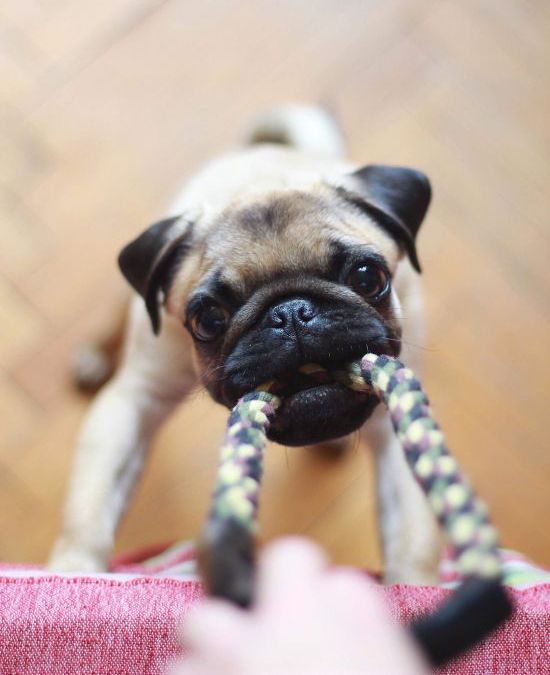 What toy would suit your dog?
Dogs love to play! And it's a good thing too, because through play they learn to respond flexibly to different situations and to reduce their aggression.
All the while, you are nurturing the social bond between you and your dog – and ultimately that is what matters most. As you can see, playing and fun are fundamental for forging relationships.
Of course, each dog will have its own natural style of play. Little terriers often prefer a rough and tumble approach, while Labradors may be rather more laid back and will make the game as pleasant as possible for their owner. What is the best way to play with your beloved pet?
Just try things out! Set your pet challenging goals and offer different toys. You will soon find out what kind of activity is most popular.
Once you have found the right game for you and your dog, the next question is what kind of toy might be appropriate. If you visit your local pet shop or search online, you will find endless possibilities: from super-robust plastic balls to cute, squeaky animal toys.
But do you really need to buy a toy? No, homemade dog toys can be created from very simple materials.
We have collected seven DIY projects for you.
Tip: Our homemade dog toys are also ideal for long boring rainy days at home.
Our DIY instructions for you
Dog toy DIY no. 1: find the muffin game
Time required: 2 minutes
We are often asked what snacks sensitive dogs are allowed if they are only able to eat InsectDog or VeggieDog. The answer is incredibly simple: just pinch a bit of their daily menu and use this normal food as a treat! This cuts out a few calories for overweight pets at the same time.
There is also a great game to make the treat seem even more delicious: a hidden object game. This will bring out the bloodhound abilities in any dog! Hide a couple of croquettes in an empty muffin tin and cover the openings using cut-down toilet rolls, which have been closed at one end.
The goal: your dog should sniff out where the food is hidden and the reward for success is getting to eat it right away. If smell alone is not enough, some extra help from their paws might be needed.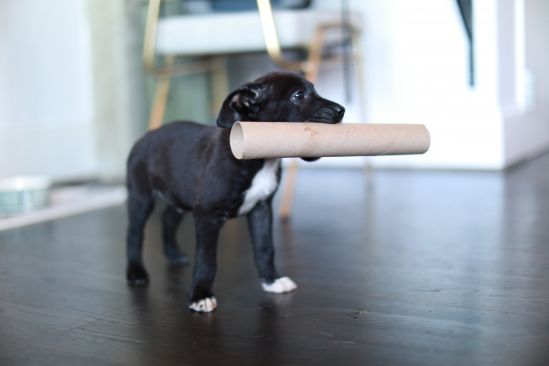 Dog toy DIY no. 2: a shoebox full of treats
Time required: approx. 10 minutes
For this homemade dog toy, you will need an empty shoe box and lots of unrolled toilet rolls. Depending on the size of the box, you may need up to 25 rolls.
Fill your shoe box (or some other empty box) with toilet rolls, so their open ends face upwards. If you want to make the game more difficult, you can trim the ends of the rolls to make them different heights. Now scatter a few treats in the open rolls and let your dog hunt for them and work out where they are.
Dog toy DIY no. 3: the sock octopus
Time required: 10 minutes
Everyone has a heap of unpaired socks at home, right? Good news: no need to throw them away. Instead, you can turn them into a really cute homemade dog toy! How? You will need a total of six socks of the same size. Roll one of them into a firm ball and insert it inside another sock – this will be the head of the sock octopus.
Pull three other socks over the top. Next, take the remaining sock and cut off a long strip, roughly 2 cm wide, which you then tie around the bundle of socks beneath the rolled-up ball. Make sure you knot this securely, so nothing comes loose. Now cut the sections of the socks hanging down beneath the ball lengthwise into even strips. You can take three strips at a time and plait them to make the arms of the octopus. Tie the ends of these octopus arms neatly to secure them.
Et voilà: the cute sock octopus is ready for all those affectionate dogs out there!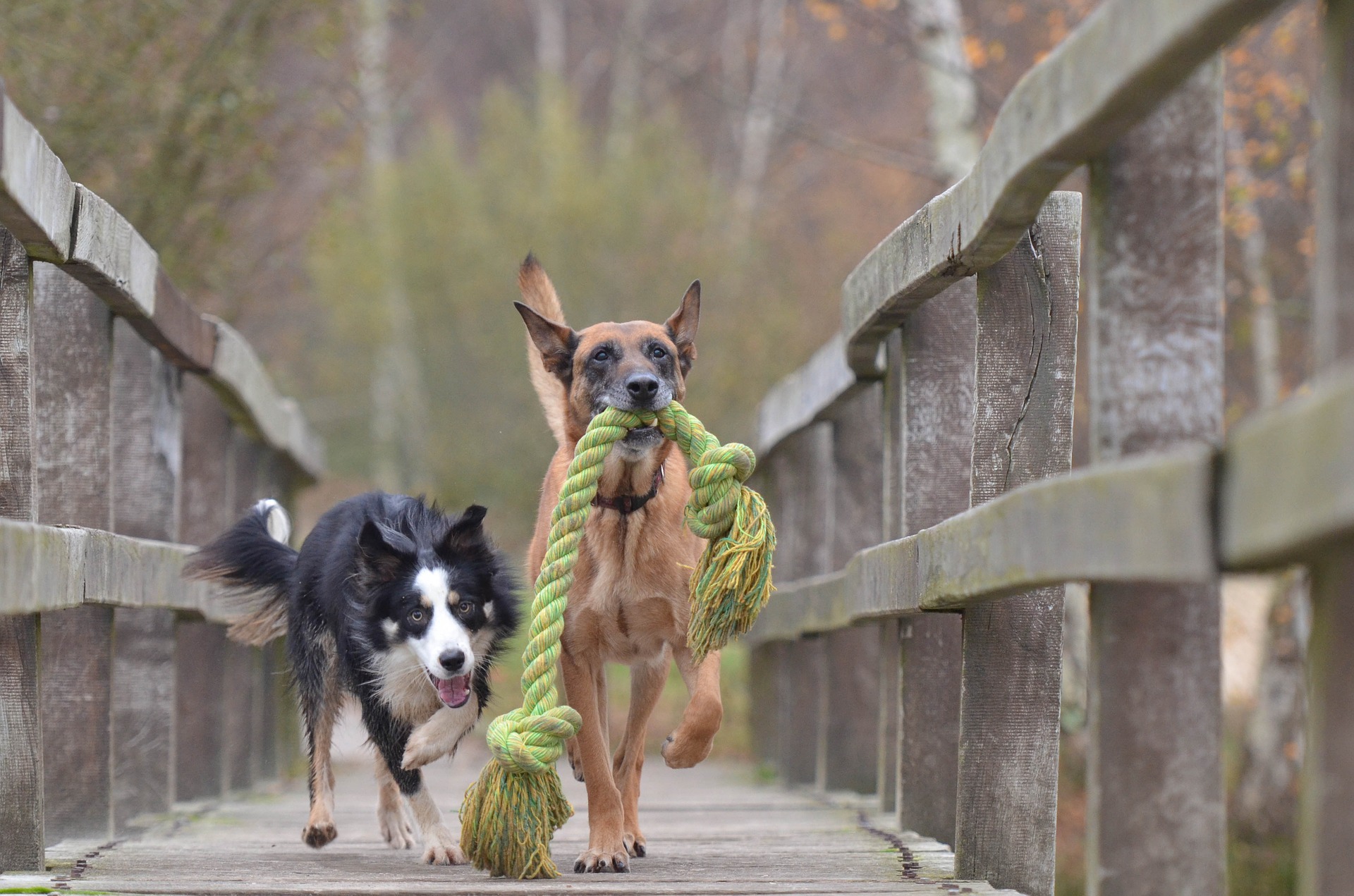 Dog toy DIY no. 4: DIY agility tunnel
Time required: approx. 30 minutes
Does your dog love agility training and obstacle courses? Why not make your own agility tunnel! All you need are a few chairs, side tables or dining tables and a couple of sheets or tablecloths. When choosing your tables and chairs, you will need to consider what size your dog is. Your dog must be able to run easily underneath without getting stuck or bumping into anything. The best option are wooden tables and chairs where you have sawn off the armrests. You can screw the furniture together to make your homemade agility tunnel as long as you want and any shape you fancy. Finally, cover your tunnel with old sheets and other fabric. You can also tack these materials in place to prevent them slipping.
Dog toy DIY no. 5: A fleece tug toy
Time required: 10-15 minutes
What is a tug toy? A fantastic occupation for your dog! This sturdy toy made from fleece or scraps of fabric is easy to make yourself and can be used for boisterous tugging games. It is perfect if your dog is a bundle of energy and fond of a tussle. For one tug toy, you just need four strips of fleece or fabric, roughly 8 cm (3 inches) wide and 120 cm (45 inches) long. We have found this is an ideal way to recycle old clothes or fleece blankets!
It really is simple: place the four strips of fabric one on top of the other and secure one end with a clip or knot. Spread out the strips evenly in four directions, then place the top strip over the one on the right, the right strip over the bottom strip, the bottom strip over the left-hand strip, and the left-hand strip under the top strip. Pull the strips firmly and repeat this step until you are done. Now you can remove the clip and pull all the strips firmly together. And your dog's new tug toy is ready!
Dog toy DIY no. 6: spin the bottle for dogs
Time required: 5 minutes
How to make a homemade dog toy from a simple plastic bottle, which will really get your dog's brain working:
Choose a plastic bottle made from relatively thin material and cut a hole in both ends. Insert a string through the holes, so the bottle is hanging from the thread. Now tie up the thread between two tables or trees and fill it with treats. The dog will need to spin the bottle to make the snacks fall out.
Dog toy DIY no. 7: the wooden fetching block
Time required: 1 day
Does your dog love to play fetch? Instead of using a training dummy or ball, a homemade fetching toy can easily be made using unwanted bits of wood. All you need are some bits of wood (e.g. ends of timber) that are not the kind to splinter, e.g. beech or oak. You can saw or sand these scraps of wood into whatever shape you want for your fetch toy. The best designs are elongated and round, a bit like a bone. These are easy to throw and carry. It is vital to sand the wood completely smooth, so your dog does not get any splinters. To protect the wood against moisture, pests and germs, apply a high-quality, non-toxic varnish (specially designed for toys for children and dogs).
One last piece of advice before you are ready for the DIY dog toy action
Ready, set – play! Oh, hang on, one final important tip before you go off to play with your dog: don't leave the dog toy lying around. If you do, its charm will soon wear off and your playful ruffian might nibble at it or even swallow bits that are not suitable for consumption. And anyway, playing together is more fun, isn't it?
We hope you and your dog have huuuuge fun tussling, tugging, searching, cuddling, snuffling and generally running riot!