Grain free dog food – is this the dog food of choice?
Grain-free dog food is highly rated by many people. And not without reason. Although dogs are omnivores, an appropriate canine diet should not be dominated by grains. However, many foods contain a relatively high proportion of different varieties of grain, such as barley or wheat. Is this healthy for our pets, or is dog food with no grains better? Here you will find important information about grains for dogs.
Dog food with or without grains: what is the difference?
Grain-free dog food only makes up a small proportion of the culinary market for dogs. And there are significant differences between the products that do contain grains. The cheapest food products for dogs contain lots of wheat, rye, oats, barley and other varieties of grain alongside the meat component. These grains are found either in ground or flaked form because they are easier to digest than the whole grains. However, these cereal flours are generally produced from the inner part of the grain kernel and lack the nutritious outer layer. High-quality dog food with grains consists of the crushed grain, which is heated briefly and exposed to steam to unlock the starch. This process allows vital nutrients to be preserved while ensuring the grain is easy to digest. One example of this is our FarmDog Country. As well as ethically farmed chicken and other nutritious ingredients, the easily digestible Green Petfood dry dog food also contains rice and whole corn. Both these ingredients are gluten free – similar to quinoa, amaranth and buckwheat, which are types of pseudograin. The delicious recipe uses the wonderful trio of chicken, rice and corn, and it has been tailored to meet the needs of mature and older dogs.
What is grain-free dog food made from?
If a dog food is grain free, all varieties of grain are avoided, with alternative sources of carbohydrate being used instead. These could be vegetables or pulses that are high in starch, or types of pseudograin. So, grain-free dog food often contains:
For example:
potatoes
sweet potato
peas
amaranth
tapioca
Just like grain, these serve as important sources of energy. Your dog needs energy to play with you, to chase its friends, and to perform its tasks. These ingredients also provide your dog with vitamins, minerals and other important nutrients, ideally when it is still a puppy.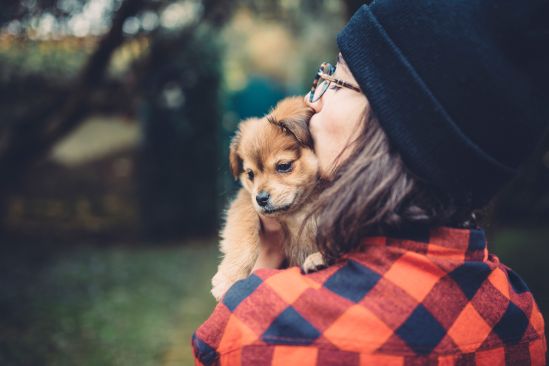 Grain-free puppy food
Particularly when a dog is growing, carefully coordinated healthy ingredients are very important. Our grain-free puppy food, FarmDog Mini grainfree, has been specially designed for small dogs but is also suitable for rearing other breeds. A balanced calcium/phosphorus ratio with vitamin C and minerals in an easily absorbable form support strong bone development and healthy joints. Valuable fatty acids from seaweed promote brain development. The grain-free Green Petfood recipes deliberately use chicken that has been reared in a natural living environment. So your dog is also supporting animal welfare!
Is grain-free dry food ESSENTIAL for my dog?
Lots of dog owners choose grain-free dog food because they consider it to be a more species-appropriate diet. Is that correct?
Dogs were domesticated by humans, with the result that their food sources have also changed. 
They are able to digest plant-based protein and can eat foods that are high in starch – both grain-free dry food and food containing grain. 
Scientific studies by Swedish researchers have shown that dogs have undergone an evolutionary development over the millennia. As a result, dogs now have the genetic capacity to digest the starch contained in carbohydrates. 
Experienced dog owners know that dogs are omnivores and will gladly consume bananas, strawberries and other fruit as well as carrots, cucumbers and other vegetables. Sometimes you will need to rein your dog in, otherwise he will just eat everything on your plate. And that is definitely not healthy because some foods are toxic to dogs, for example grapes, tomatoes and chocolate. Of course, grains do not belong to this category.
As well as enjoying eating plant-based foods, dogs can digest these substances well, and they are healthy too.
What is more, even wolves do not only eat meat. In order to survive in the wilderness, wolves have to eat any prey they catch in their entirety. The stomachs of these animals generally contain plant-based components, so wolves will be indirectly consuming plants with their food, including grains.
So, you can see that there is no obligation to feed your pet grain-free food.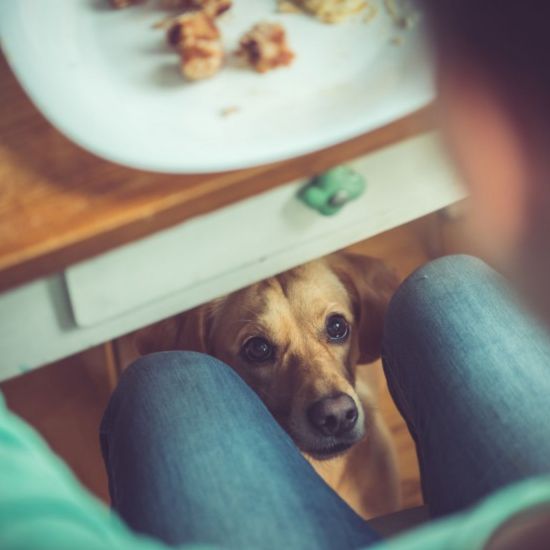 Does grain-free food automatically contain lots of meat?
Often grain-free dog food is subconsciously associated with a high meat content and thus thought of as species-appropriate nutrition. However, first and foremost, "grain free" simply means the recipe does not contain any grains. Grain-free dry dog food usually contains potatoes, peas or lentils. Our grain-free dog food for active dogs, FarmDog Active grainfree, includes all three of these high-quality grain alternatives in addition to delicious chicken that is sourced 100% from ethical livestock producers. Along with red lentils, this ethically farmed chicken supplies your dog with valuable protein. The other ingredients in our Green Petfood recipe supply vital substances like vitamin E, vitamin C, inulin and yeast and offer ideal support for your dog's skin, coat, intestinal flora and immune system.
Conventional meat is not always necessary: recipes based on purely plant-based protein or even insect protein represent a nutritious and sustainable alternative. Our grain-free and gluten-free VeggieDog and InsectDog varieties supply your pet with all the nutrients required for a vibrant and vigorous life.
Too much meat is unhealthy
For those who associate grain-free dog food with large quantities of meat, it is important to know that dogs should not eat a purely meat-based diet. For one thing, this can cause nutritional deficiencies: plant ingredients supply vitamins, minerals and other nutrients that are not found in meat. Furthermore, too much animal protein can lead to an accumulation of protein – i.e. an excessive protein supply, which can result in gout, particularly in older dogs. Consequently, grain-free dog food should ideally consist of a balanced blend of ingredients to ensure your four-legged friend gets the ideal diet. It is also essential to offer your dog high-quality food. This will contain top-quality ingredients to ensure a species appropriate and nutritious diet for your dog.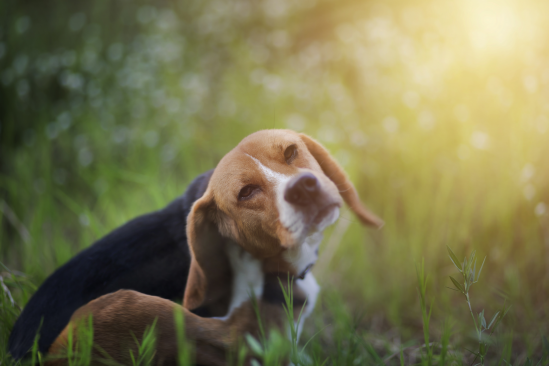 For dogs with allergies: dry food with no grains
Based on the explanation just provided, it is clear dogs can generally eat food containing grains. However, in some cases it may be necessary to resort to grain-free dog food. This will be the case, if your dog starts suffering from allergies or if your dog cannot tolerate food containing grain.
How can you tell if your dog has a food intolerance? In most cases, animals respond to allergenic ingredients with a skin reaction such as itching, or by exhibiting hair loss. Other symptoms include ear inflammation, diarrhoea or excessive quantities of excrement. The latter is always a sign that the food is not very digestible. In any case, it is best to consult a vet about these kinds of symptoms and to seek advice about whether they really are being caused by the dog's diet. The expert will also be able to help you identify the allergenic substances and will give you tips about alternative food. If you suspect a food intolerance, more information about how to proceed can be found in this guide.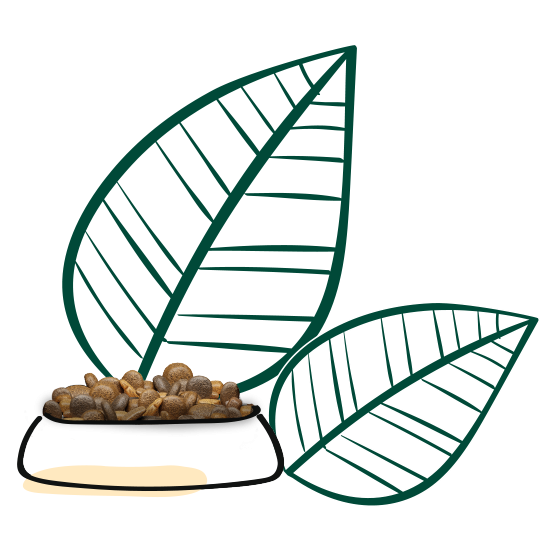 Better tolerance of dry food with no grain
In the case of a food allergy, symptoms are triggered by a specific cereal protein. Most common of all are wheat allergies and intolerances. For this reason, our recipes avoid the use of wheat. In rare instances, coeliac disease or some other intolerance may occur. This can result in permanent inflammation to the mucous membrane in the small intestine, which causes diarrhoea and weight loss. However, these kinds of food intolerances are rare in dogs. For dogs that are particularly sensitive to food, Green Petfood's insect food represents an innovative and sustainable alternative. Insects are a source of high-quality protein and valuable fatty acids, which protect your pet's skin and coat. In addition, compared to conventional livestock rearing, insect breeding has a relatively small environmental footprint.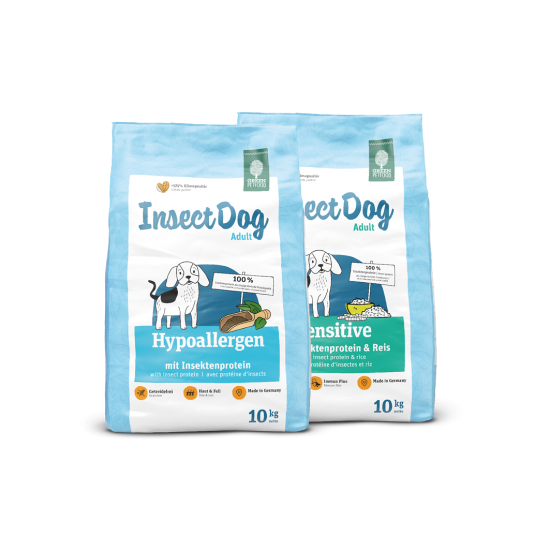 Insect food: hypoallergenic dry food with and without grain
Our InsectDog Hypoallergenic dry food is the solution for adult dogs suffering from food intolerances. Two factors make this dry food variety particularly easy to digest: the grain-free recipe and the healthy ingredient of the future, insect protein. With potatoes, peas and insects, this hypoallergenic dog food offers a balanced formula, which is good for your dog and good for the environment.
InsectDog Sensitive is a variety that is particularly gentle on the stomach, putting the icing on the cake when it comes to digestibility. Thanks to selected raw ingredients, like rice and insects, and gentle production methods, this innovative food is ideal for sensitive dogs.
Both dry food varieties offer a unique combination of micronutrients (vitamins, minerals and amino acids), offering ideal support for your dog's skin, coat, intestinal flora and immune system.
Dry dog food: grains are not the only allergens
In addition to grains, there are other food components that can trigger allergic reactions. These include soya and animal protein from beef, pork or fish. Allergies or intolerances of this kind can be identified through an exclusion diet or by an allergy test at the vet. Generally, a hypoallergenic dog food will solve the problem because it does not contain specific ingredients that are known to be a trigger for allergies or intolerances.
Vegetarian dog food for an intolerance to animal protein
Green Petfood's vegetarian dry food is ideal for dogs that have an allergic reaction to animal protein. The veggie option consists of alternative, plant-based protein sources, which are an ideal way to meet your dog's need for essential nutrients. The vegetarian recipes avoid any added wheat or added sugar and do not contain artificial colourings and flavourings. So, the risk of your dog not tolerating or having an allergic reaction to this high-quality, grain-free dog food is very low. Having said that, it is impossible to completely rule out the possibility of an ingredient triggering a reaction in a particular animal. In addition to nutritional benefits, vegetarian dog food offers a vital ecological advantage: all veggie dog food products are free from animal cruelty and thus a good alternative for dog owners who are vegetarian or vegan for ethical reasons.
The grain-free recipe used in VeggieDog Grainfree offers your dog an optimal supply of all essential nutrients. Pure pea and potato protein provide your pet with valuable amino acids, while delicious herbs and forest fruits round off the light veggie menu with vitamins and minerals.
The VeggieDog Origin variety contains rice, and thus a grain, but is gluten free. Delicious red lentils contain protein to supply your dog with important amino acids, taurine and L-carnitine, as well as having a strong flavour.
Whatever your reasons for choosing a grain-free dog food, Green Petfood offers a wide range of healthy options:
responsible: dry food with ethically farmed meat, gluten free or grain free
plant-based: vegetarian food with or without grains
innovative: gluten-free or grain-free insect food
Our dry food keeps your dog happy on a gluten-free or grain-free diet, while providing everything that's required for a healthy life. And owners can have a clear conscience.