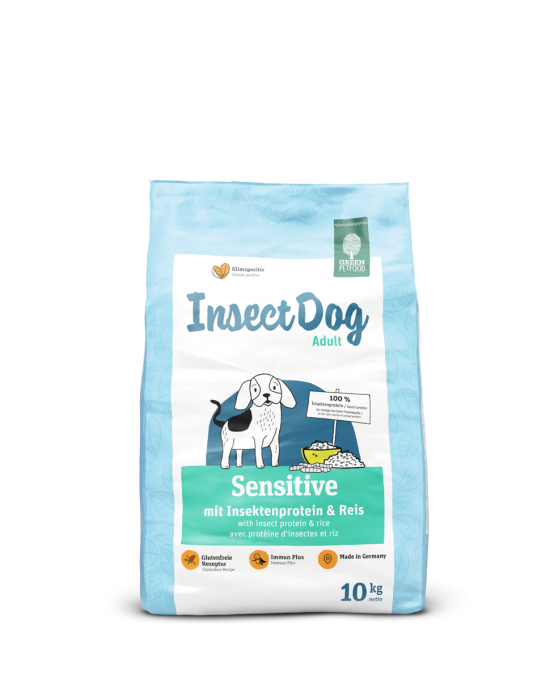 InsectDog Sensitive
with Insect Protein & Rice
Easy to digest, gluten-free complete food with rice for adult dogs with allergies

Sustainable insect protein as a unique source of animal protein

Vitamins E & C, inulin and yeast effectively support your dog's skin, coat, gut flora and immune system

Climate-positive: through our forest conservation project in Tanzania, we compensate for 125% of our CO2 emissions.
Thanks to its finely selected raw ingredients like rice and insects, as well as its gentle processing, our InsectDog Sensitive is perfect for sensitive dogs. The unique combination of vital nutrients like vitamin E, vitamin C, inulin and yeast provide optimal support for skin, coat, intestinal flora and the immune system. InsectDog Sensitive is not only suitable for sensitive pooches, but also for all four-legged pioneers: insects are THE sustainable protein source of the future!
Complete diet feed for adult dogs
Liegt diet for your dog with a sensitive digestive system
100% insect proteinas the sole source of animal protein
Download product information:
rice 52. 8%; insects 15,0%; partially hydrolysed yeast; sunflower oil; beet fibre; potato protein; mineral substances; psyllium; ground chicory root (natural source of inulin).
Why insects? Because insects…
are an ideal basis for hypoallergenic food because they have so far been rarely used as a high-quality protein source in dog food
are a very sustainable alternative compared to other animal-based protein sources because the way they are raised produces far less carbon emissions
provide the dog not only with high-quality protein, but also with valuable fatty acids
Become Part of the Community!
Follow our social media channels for the latest updates: