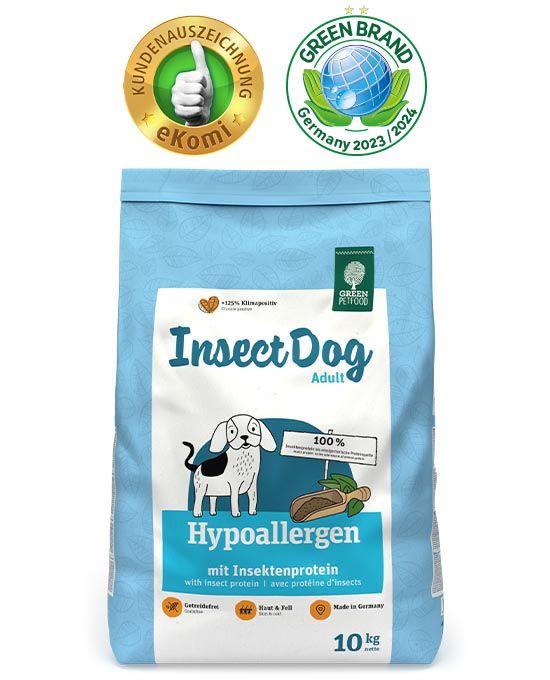 InsectDog Hypoallergen
with Insect Protein
Hypoallergenic, grain-free complete dog food with potatoes and peas for adult dogs with allergies

Sustainable insect protein as a unique source of animal protein

Valuable fatty acids support healthy skin and a shiny coat

Climate-positive: through our forest conservation project in Tanzania, we compensate for 125% of our CO2 emissions.
Because insects are a source of protein that is not used very often, our InsectDog Hypoallergen is the solution for adult canines that suffer from a food intolerance. Valuable fatty acids help make for healthy skin and a shiny coat. The grainfree recipe is not only suitable for sensitive pooches, but also for all four-legged pioneers: insects are THE sustainable protein source of the future!
Complete diet feed for adult dogs with nutrient intolerances
Hypoallergenic, grainfreecomplete feed for your sensitive companion with allergies
100% insect proteinas the sole source of animal protein
Download product information:
dried potato; pea flour (natural source of amino acids); insects 10.0 %; oils and fats; partially hydrolysed yeast; potato protein; minerals; beet fibre; carob meal.
Why insects? Because insects…
are an ideal basis for hypoallergenic food because they have so far been rarely used as a high-quality protein source in dog food
are a very sustainable alternative compared to other animal-based protein sources because the way they are raised produces far less carbon emissions
provide the dog not only with high-quality protein, but also with valuable fatty acids
Feeding recommendation per animal per day
| Weight | inactive – older | normally active | active |
| --- | --- | --- | --- |
| 5 kg | 55 g | 65 g | 85 g |
| 10 kg | 85 g | 115 g | 145 g |
| 20 kg | 140 g | 195 g | 245 g |
| 30 kg | 190 g | 265 g | 335 g |
| 40 kg | 240 g | 330 g | 415 g |
| 60 kg | 355 g | 460 g | 565 g |
| 80 kg | 405 g | 550 g | 695 g |