Puppy food: what puppies really need!
The ideal diet for young dogs can lay the foundation for a long and healthy life. That is why high-quality food for puppies is so important even in the first few weeks. Getting a puppy's diet right is crucial for their subsequent health. Which puppy food is best? Dry food, wet food or even BARF? We explain all this and let you know what you should look out for to make sure your puppy grows big and strong.
Up to the third week of life, a puppy's mother will supply it with milk. After this, a specially chosen puppy food can offer an ideal diet. By this point, you will quite rightly be asking the following questions:
Which ingredients are particularly important?
How can I tell if a product is good quality?
How will the nutritional requirements of my puppy or young dog change as it gets older?
How long should I be offering food that is specially designed for growing dogs?
In this guide, you will find the answers to these and other questions.
Puppies are highly sensitive
Feeding a puppy is demanding because puppies are sensitive and delicate. Right from the start, you should choose a dog food variety that you can continue to offer throughout the puppy phase. There is a tendency to assume we are doing our pets a service by offering them a varied diet, but that is a misconception. Constantly changing food can easily cause irritation to a puppy's gastrointestinal tract and may result in vomiting and diarrhoea. So you should try to choose the right food for your young pup.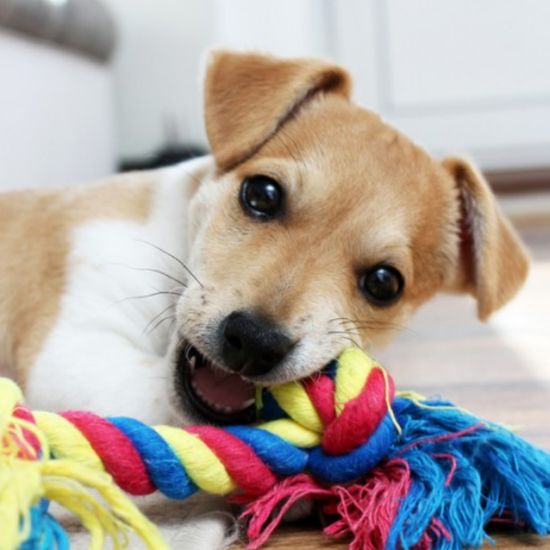 What do puppies and young dogs need from their food?
During the first three weeks of life, puppies get their nutrients exclusively from their mother.
After the first month, they will gradually be weaned off the mother's milk.
From the 4th week, you should begin supplementing the milk with easily digestible, well-tolerated, delicious food. This could be a nutritionally complete wet food or dry food. Dry food should initially be offered in mushy form. To achieve this, it should be soaked in water.
Important: make sure the temperature of the water is roughly 30-35°C. If the water is too hot, this can destroy vital vitamins and nutrients in the food, while water that is too cold can cause stomach problems for your dog.
Adapt the puppy food properly
The crucial developmental phase for a growing dog takes place during the first few months of its life. It is important to adapt the puppy food to the relevant breed of dog. Small breeds exhibit a different growth curve than larger breeds. The speed at which a puppy grows can be influenced by its diet. Excessively rapid growth is not beneficial. If a puppy receives food that is too high in energy, it can grow too quickly and thus reach its final size too early. The skeleton may not be sufficiently mineralised or stable and this can result in bone damage because the puppy is too heavy for its age.
To ensure your dog grows in a healthy way, you should offer food that has been tailored to meet the dog's needs and contains all the essential nutrients. These include amino acids, vitamins, minerals and valuable fatty acids. All dogs need a healthy immune system and thus require food that contains adequate quantities of antioxidants, beta-carotene and vitamin E. Omega-6 and Omega-3 fatty acids are crucial for a healthy, glossy coat.
Essential criteria for high-quality puppy food:
No added sugar
Free from artificial colourings and flavourings
Free from genetically modified ingredients
Vitamin C and minerals in a readily absorbable form
Supports healthy growth and strong bones
Calcium to phosphorous ratio designed for puppies
Valuable fatty acids
Criteria for choosing puppy food
Apart from the factors just described, there are other considerations when selecting puppy food. Read on to find out what these are and why they are so important.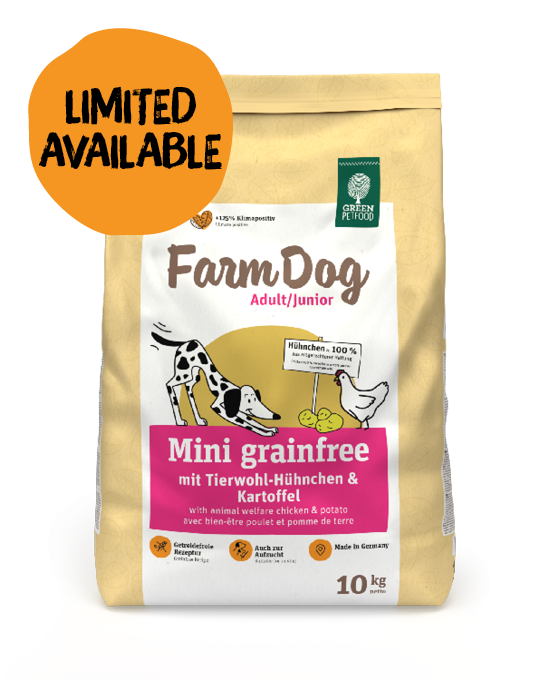 FarmDog
Mini grainfree Adult / Junior
with animal welfare chicken & potatoes
from 5.99 €
GO TO PRODUCT
Your puppy needs energy, but not too much or this can cause growth disorders, which can have harmful health consequences. Excess energy accelerates the dog's growth, causing it to reach its full size too early. A dog's body size is genetically predetermined. Although you cannot influence the dog's adult size through its food, you can affect when this size will be reached. That is why it is all the more important for your beloved pet to grow at the optimal rate.
Excessively fast growth is often caused by an energy intake that is too high. Many puppies that consume too much fuel simply grow too quickly without also building up deposits of excess fat cells. However, this excessively rapid growth is by no means harmless and can result in joint abnormalities. Consequently, it is important to stick closely to the feeding recommendations for puppy food. These can generally be found on the food packaging.
Make sure you adequately cover the dog's energy requirements, but always avoid an oversupply because otherwise your puppy's skeleton will not have sufficient time to adapt to the increasing demands being made by its growing body mass.
Tip:
Is your four-legged friend getting lots of treats because you are busy doing puppy training? You should always subtract the energy content of any snacks from the overall daily requirements and adjust the quantity of food accordingly. If you are feeding your puppy dry food, you can use some of the daily ration as a delicious reward. This makes it easy to keep an eye on the overall quantity. Additional treats should be kept within limits.
It is important for your puppy to consume sufficient high-quality protein. This provides valuable building blocks required for healthy growth. As well as ensuring an adequate quantity, the quality of the protein is also vital. High-quality, easily digestible protein can be found in both plant-based and animal sources.
Animal protein sources are meats such as beef, lamb, chicken etc. and animal by-products such as offal. Plant-based proteins can be found e.g. in lentils, lupin, peas etc. Protein for dogs is rated depending on its amino acid composition and digestibility. High-quality protein for dogs is easy to digest and contains essential amino acids, such as arginine, histidine, lysine or tryptophan.
The right calcium to phosphorous ratio
Calcium is well-known to be vital for strong bones. If this mineral is lacking, the result can be mineralisation abnormalities and thus skeletal disorders. However, an excessively high proportion of this substance in puppy food must also be avoided as this can foster deformities. This is one of the reasons why dog food for adult animals is often unsuitable for puppies. The calcium content in these products is not usually designed for the needs of a growing dog.
The ratio of calcium to phosphorous plays a key role in healthy bone development. Suitable puppy food should contain the right proportion of both these nutrients. Experts recommend:
Calcium : Phosphorous = 1.2-1.5 : 1
Specialist puppy food generally contains a balanced combination of all ingredients and has been specifically designed to meet the needs of your much adored pet. If you are not sure, you can seek advice from an expert, vet or food manufacturer.
Tip:
If you choose a complete dry food for your puppy, you do not need to offer any other food or supplements. Avoid calcium supplements because these can result in an oversupply or can inhibit the absorption of other vital nutrients.
How long should puppy food be offered?
Your puppy needs its junior feed to grow big and strong, so it should continue to eat this food at least until it has reached adult weight. The point at which your young dog is fully grown varies from breed to breed. Smaller breeds, e.g. Chihuahua, Bolonka or Pekingese, reach their adult size much faster than larger breeds. Some small dogs reach their full adult weight after 6 months, whereas large breeds, like Mastiffs, can take 15 to 20 months to reach full size. It is best for your puppy's stomach if the daily food ration is divided into several portions and spread out over the day. As the months go by, you can gradually reduce the number of portions and increase the quantity of food at each meal. Once your dog is fully grown, one main meal and one additional meal per day is enough.
How much puppy food to feed?
A puppy's stomach has a limited capacity. As a result, you should ideally feed your pet several small portions over the course of the day, rather than one big meal. During the first two to three months, you can feed your puppy four to five meals per day. From the third month, the quantity of food can be reduced. Three meals per day will now be sufficient, but the portions should be slightly larger. From the sixth month, you only need to feed your puppy twice a day.
Remember: your puppy should rest after eating. This creates a healthy cycle of activity, eating and periods of resting.
Depending on whether you choose dry or wet food, there are a couple of things to note. Below you will find an overview of the pros and cons of different feeding options.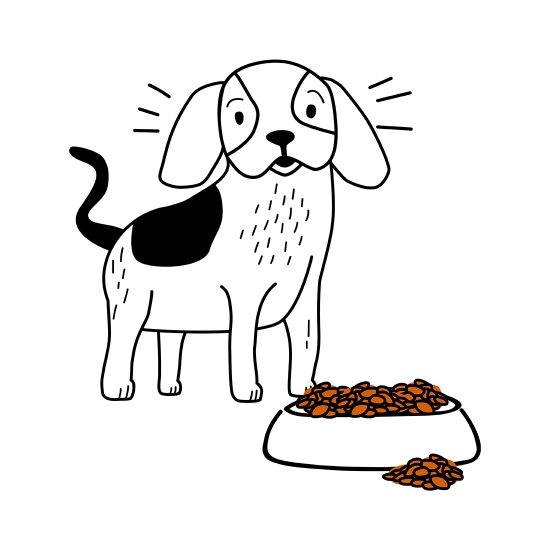 Dry food
Characteristics:
Complete feed
Recipes formulated to meet dogs' needs
Contains all important nutrients
Different ingredients like animal protein, grains, vegetables in fresh or dried form, pressed or extruded to create pellets or croquettes
Advantages:
Easy to work out the correct food quantity / daily ration using a measuring cup and the feed recommendation on the packaging
Easy to handle
Hygienic
Relatively odourless
Can easily be stored for long periods
Also ideal for travelling, e.g. for office dogs, holidays, trips
Does not go off as quickly, even if left in the bowl for a while
Promotes natural dental abrasion
Starch is unlocked in extruded dry food and thus easily digestible
Sustainable due to minimal packaging materials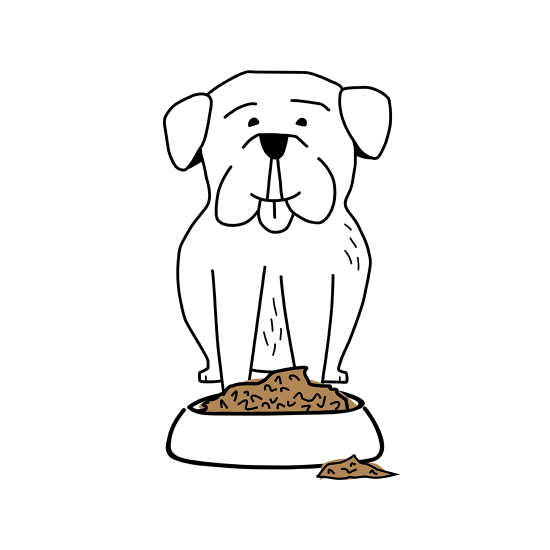 Wet food
Characteristics:
Moist, cooked raw ingredients
Food mixture in trays or tins as complete feed
Also available just as meat
Advantages:
Easy to serve out portions
Especially ready meals are simple to feed
Easy to store for long periods if unopened
Easy to take
Disadvantages:
If one tin is enough for more than one meal, it must be stored in the refrigerator and used as soon as possible
If wet food is left for too long or not eaten completely, these leftovers can go off quickly
Poor quality food often contains sugar, artificial flavourings etc.
Stronger smell
Greater need to pay attention to dental health, due to lack of dental abrasion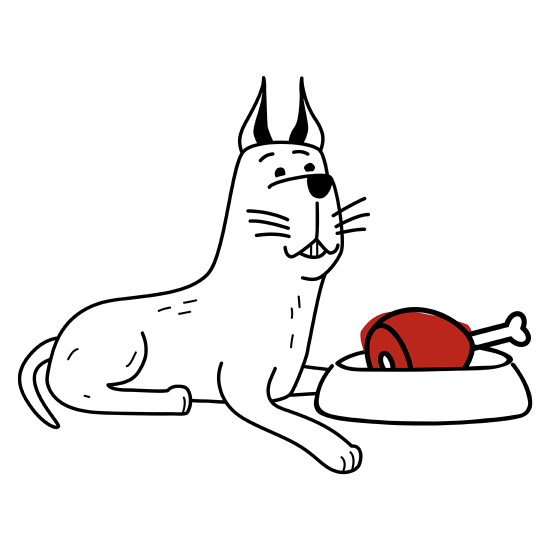 BARF
Characteristics:
Based on the original diet for wolves
Each meal consists of raw meat, vegetables and/or fruit
In addition to the muscle flesh, bones, cartilage, tendons and offal are also included in this diet
Advantages:
Possible to customise the composition of the dietary intake
More transparent food origins
A varied diet is possible
Disadvantages:
Time consuming
Expensive
The precise composition of the food needs careful monitoring to ensure the dog does not suffer from deficiencies
Some pets may be averse to the raw meat components
The smell is sometimes unpleasant and may take some getting used to (e.g. for rumen)
Raw meat can result in hygiene problems
If the dog does not eat the raw meat in one go, the food will need to be disposed of after a while, or it will go off
Bones can cause digestive difficulties and tooth fractures
Raw ingredients are often more difficult to digest than ingredients that have been unlocked by cooking or extrusion
Note: if you want to make your own puppy food using raw meat, vegetables and fruit, you will need to pay careful attention to the composition. Every dog needs very specific quantities and proportions of different nutrients, such as the ratio of calcium to phosphorous. To avoid making mistakes, it is best to seek expert advice.
Are you wondering which puppy food is best? The most important thing is for your puppy to get a high-quality source of all the important nutrients to ensure optimal support for its development. A ready-made complete feed is recommended because this is a straightforward way to ensure the overall supply of these substances. That is why dry foods are particularly good for your puppy. Manufacturers of premium foods focus on a carefully formulated recipe. This makes it easy for you to offer your young dog a healthy diet.
A complete feed provides your dog with everything it needs. No additional food is needed. Offering other foods can even result in digestive problems. Another risk is that a spoilt puppy will grow up to be a fussy eater and will be difficult to please when it comes to food.
You should make sure you choose a high-quality product and try to add as few other food items as possible.
There are a few foods your puppy should never eat. These include:
Milk products. High levels of lactose cannot be completely broken down in the intestine and excess consumption is often accompanied by diarrhoea.
Chocolate is toxic for dogs. The substance theobromine affects the dog's central nervous system and can even be fatal. Other foods containing cocoa can also result in theobromine poisoning in dogs.
"Eating food from the table" might be well-intentioned, but it can cause all sorts of problems such as diabetes, kidney and liver complaints, and obesity.
Bones and additional meat can result in an imbalanced calcium to phosphorous ratio, which is so important for growth.
That is why you should only feed your dog the appropriate dry or wet food.
How do I switch puppy foods?
Your puppy breeder will usually give you a certain quantity of the food they feed to their dogs. You can either decide to continue feeding this to your puppy, or you can switch to a different variety or an alternative feeding method. If you want to do this, it is best to let your new four-legged family member settle in for a few days first. The puppy should be allowed time to calmly adjust to their new situation and new family before you switch foods. A sudden change of food can easily cause gastrointestinal problems. You should wait at least two weeks before changing the puppy food. When you do make the change, it is important to take it slowly, i.e. mix a small amount of the new food into the current food for a few days to ensure a gradual transition. This helps reduce the risk of digestive problems.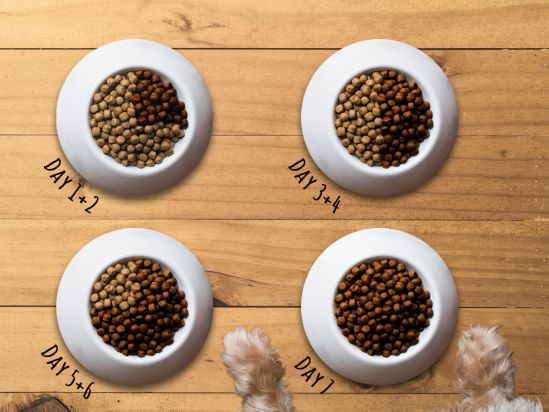 A long transition should also be the aim if you want to convert to a product for adult dogs once your puppy has finished growing. The timing of this transition will depend on the breed of dog and their normal fully grown weight.
Large dogs have a longer growth phase than small dogs. Chihuahuas, Yorkshire Terriers etc. often only need puppy food for 8 months. By contrast, medium-size dogs up to 40 kg, such as Labrador Retrievers, German Shepherds and Setters, take about 12 months to become fully grown.
Large dogs weighing over 40 kg, such as Dobermanns, Giant Schnauzers and Mastiffs, only reach their full adult size after about 20 months.
Difference between puppy food and adult food
As already discussed, the supply of nutrients during the period when a dog is growing is different to that for a fully grown dog. Appropriate phosphorous and calcium levels are also necessary. Adult food varieties are not designed for a growing dog. That is why a growing dog should not just be offered adult food.
Once your dog reaches adulthood, of course, you can switch to an adult food variety. The length of the growth phase will depend on the expected fully grown weight for your dog.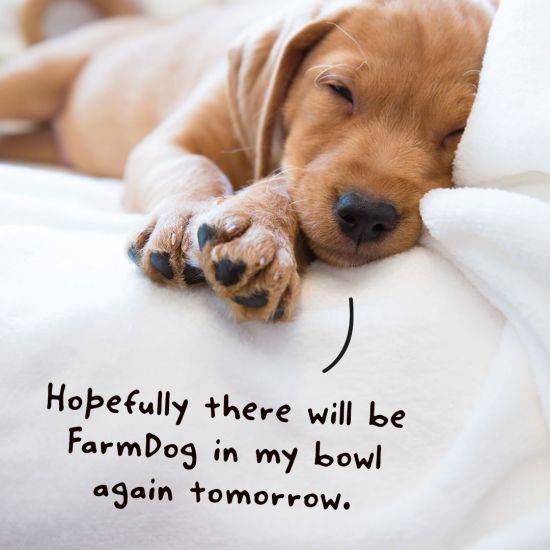 How can I feed my puppy in a sustainable manner?
When you welcome a puppy into your home, you take responsibility for his welfare. This responsibility extends not just to the puppy, but also to the environment. By choosing a sustainable puppy food, you can actively support the environment, just as you do with your own eating habits. We recommend seeking alternatives to products containing animal protein from conventional livestock farming.
Green Petfood is known for its sustainable food products and also offers dog food with meat that has been ethically farmed. Our product range includes FarmDog Mini grainfree, which is an ideal puppy food for growing dogs of all breeds.
This dry food for dogs with dried chicken protein comes from dedicated, regional farmers, who are passionate about animal welfare. This puppy food supplies your dog with all the nutrients it needs for healthy growth, while also promoting animal welfare.
It is important for puppy food to contain the correct quantities and proportions of calcium, phosphorous and many other minerals and vitamins so that your puppy can develop as expected.
A high-quality, dry food that offers a complete feed for your puppy will ensure an optimal supply of nutrients throughout the development process.
With a sustainable food product, you can support your much-loved pet while also doing a good deed for animal welfare and helping protect the environment.
The FarmDog puppy food from Green Petfood supplies all essential nutrients and only uses ethically farmed chicken. These animals are reared in better conditions than for conventional livestock farming.
Do you and your pet want to continue supporting animal welfare once your puppy is fully grown? In which case, our FarmDog food is the right choice for you. The various FarmDog products offer ideal nutrition for your dog throughout its life – from puppyhood to old age.
Once your puppy is fully grown, you can switch to one of our products that uses insects as an alternative source of protein, or you could choose a vegetarian option, but you can stick with the FarmDog brand.
Our other guides contain more information about our dog food and a sustainable diet for dogs.​
Summary: Puppy food is important and should be chosen with care
Feeding a puppy correctly requires a high-quality puppy food but also the right quantities. Puppies need food four to five times a day because their stomachs are small, and their energy consumption is high. From the 3rd month of life, puppies need three to four meals; from the sixth month, two or three meals per day will suffice. For large breeds of dogs, in particular, it is important not to supply more energy in their food than they need or consume. Too much food can result in the dog growing more quickly, which can subsequently be a cause of joint problems. For small breeds, this risk is lower, but even these dogs should not be given free rein when it comes to food. Small dogs reach their adult size from about the ninth month – up until this point you should continue offering puppy food. For medium-size breeds, this stage is reached at about 12 months, for larger breeds it can take up to 20 months. You should only switch to a product for adult dogs once your pet is fully grown.
Puppies of all breeds need food containing antioxidants, beta carotene, and vitamin E to develop a fully functioning immune system. Omega-6 and Omega-3 fatty acids are particularly crucial for a healthy coat. An appropriate ratio of calcium to phosphorous is also vital.
To be on safe side, you can always consult your vet for advice.