FarmDog – with animal welfare chicken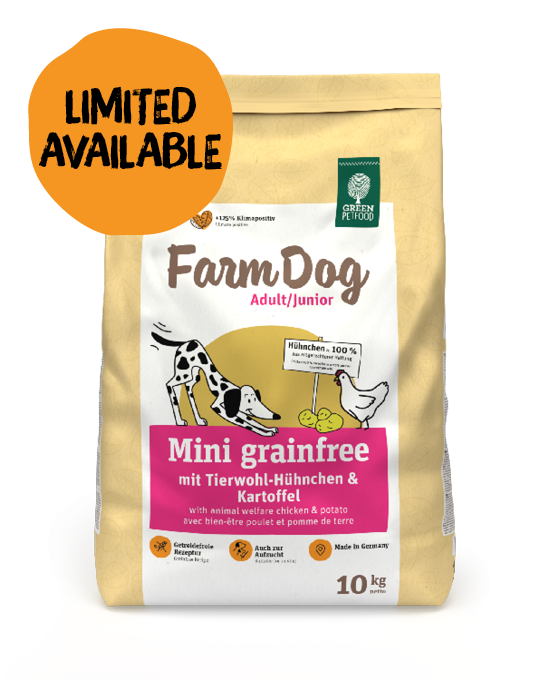 FarmDog
Mini grainfree Adult / Junior
with animal welfare chicken & potatoes
from 5.99 €
GO TO PRODUCT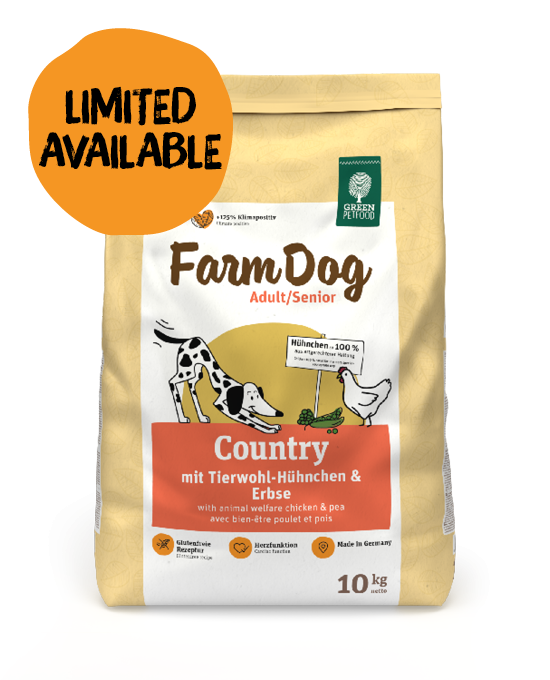 FarmDog
Country Adult / Senior
with animal welfare chicken & peas
from 5.49 €
GO TO PRODUCT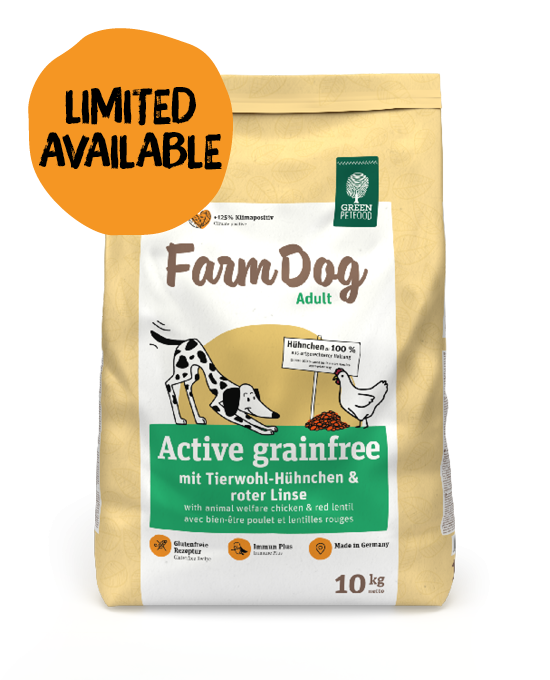 FarmDog
Active grainfree Adult
with animal welfare chicken & red lentil
from 5.99 €
GO TO PRODUCT
The regional chow for the right species!
Thanks to our grain-free and gluten-free FarmDog recipes, your dog not only gets all the good ingredients from your
local farmer
into their bowl, they're also getting really healthy food! Did you know that you can also support animal welfare at the same time? Thanks to FarmDog, we can offer you and your dog a high-quality, healthy diet that is based entirely on
chickens subject to animal welfare standards
. This means that we prioritise local animal protein using short transport routes. Meanwhile the chickens raised for your dog's food are exclusively raised in species-appropriate conditions.
Species-appropriate conditions? This means that we work closely with committed farmers from southern Germany who raise their chickens according to criteria set by the German Animal Welfare Association. They have 30% more space in their stalls, more natural living conditions with perches, stones to peck at and an indoor garden area, and they are fed using only genetically unmodified feed. Since the chickens grow up slowly and above all healthy, disease in the barn can be reduced considerably and the use of antibiotics can be kept to a minimum.
Do you and your dog want to make a contribution to improving the conditions of farm animals? It's easy with our three varieties of
FarmDog food
.
FarmDog Mini grainfree
is for any miniature muzzles - no matter whether they are small breeds or growing dogs. This lets the little ones get the most benefit and nutrients. This is ensured by the balanced calcium-phosphorus ratio as well as vitamin C, minerals and valuable fatty acids that support bone structure and brain development.
Energetic dogs receive all the nutrients they need with FarmDog Active grainfree: red lentils and the unique combination of key substances provide your dog with everything it needs for healthy skin, a shiny coat, regulated intestinal flora and a strong immune system. FarmDog Country is a delicious change from the usual for adult and older dogs - with peas, selected herbs and tasty wild berries. Taurine and L-Carnitine support heart function, while valuable antioxidants can counteract cell aging.
FarmDog
lets us offer the right nutrition for dogs of all ages. And the best part? You and your dog will also be contributing to species-appropriate animal husbandry!
"With FarmDog, things are finally looking up for our little Charly!"