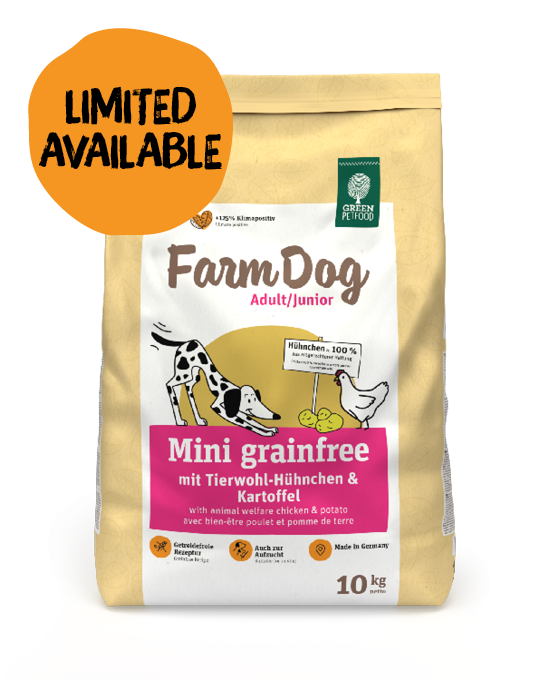 FarmDog Mini Grainfree
with animal welfare chicken & potato
Our FarmDog Mini Grainfree​ will be only available for a limited time. (More information can be found here: You ask, we answer: farewell to animal welfare chicken | green-petfood.com)
Grain-free complete food for growing and adult dogs

With humanely bred chicken

Vitamin C and minerals contribute towards strong bone structure and healthy joints, while valuable fatty acids obtained from algae support healthy brain development.

Climate-positive: through our forest conservation project in Tanzania, we compensate for 125% of our CO2 emissions.
Our FarmDog Mini grainfree fills the bowls of all mini dogs but is also ideal for the rearing of all other breeds. A balanced calcium to phosphorus ratio, vitamin C and minerals in an easily absor- bable form support strong bones and healthy joints. Valuable fatty acids from algae support the development of the brain. In the grainfree recipe, we consciously focus on chicken which grows up under more natural living conditions. Thus, your dog actively contributes to animal welfare!
Complete feed for adolescent and adult dogs.
Chicken 100 % cared for in a more species-appropriate way
Download product information:
dried chicken protein from a more species-appropriate husbandry 27.0 %; dried potato 26.0 %;
pea flour; chicken fat from a more species-appropriate husbandry; potato protein; carob meal; beet fibre; hydrolysed
yeast; plant fibre; minerals; apple fibre; dried algae 0.28 %; ground chicory root (natural source of inulin).
Why does our FarmDog chicken live more species-appropriate?
30% more coop space
Natural coop environment: activity opportunities such as picking stones & bales of straw, winter gardens or open stables, perches and bedding for scratching and sand bathing
Slow rearing
No genetically modified animal feed used
Feeding recommendation per animal per day: Adult dog
| Weight | inactive – older | normally active | active |
| --- | --- | --- | --- |
| 2 kg | 35 g | 45 g | 50 g |
| 4 kg | 50 g | 60 g | 75 g |
| 6 kg | 65 g | 75 g | 95 g |
| 8 kg | 70 g | 95 g | 120 g |
| 10 kg | 85 g | 110 g | 140 g |
Feeding recommendation per animal per day: Growing dog
| Weight | 2 months | 3 months | 4 months | 5 - 6 months | 7 - 12 months | 13 - 20 months |
| --- | --- | --- | --- | --- | --- | --- |
| 2 kg | 30 - 70 g | 40 - 75 g | 55 - 80 g | 60 - 85 g | 50 - 90 g | - |
| 4 kg | 37 - 75 g | 55 - 85 g | 75 - 100 g | 85 - 110 g | 75 - 115 g | - |
| 6 kg | 50 - 80 g | 70 - 100 g | 90 - 120 g | 100 - 130 g | 90 - 140 g | - |
| 8 kg | 60 - 90 g | 80 - 110 g | 100 - 130 g | 110 - 140 g | 100 - 150 g | - |
| 10 kg | 70 - 110 g | 110 - 150 g | 140 - 180 g | 150 - 190 g | 140 - 200 g | - |
| 20 kg | 110 - 150 g | 190 - 230 g | 240 - 280 g | 250 - 290 g | 250 - 320 g | - |
| 30 kg | 150 - 190 g | 250 - 290 g | 310 - 350 g | 320 - 360 g | 330 - 390 g | - |
| 40 kg | 200 - 240 g | 340 - 380 g | 410 - 450 g | 430 - 470 g | 450 - 510 g | 500 - 600 g |
| 60 kg | 230 - 270 g | 420 - 460 g | 550 - 590 g | 630 - 670 g | 630 - 690 g | 600 - 730 g |