Dog ice cream DIY – Easy ideas and recipes!
Need to cool down? Whether it's hot outside, raining or snowing, your four-legged friend will simply love our DIY dog ice cream. Here, we tell you how to prepare it and what you need.
Can't I just give my dog normal ice cream that I would also eat? Nope, because "human ice cream" is not healthy for dogs. This is mainly due to the high amount of sugar in "normal" ice cream. Sugar can cause diabetes in dogs and can also cause kidney disease, bone and joint problems. Of course, no dog owner wants that and that's why we have our DIY dog ice cream. If you want to make a healthy, fresh and varied dog ice cream for your dog yourself, you've come to just the right place.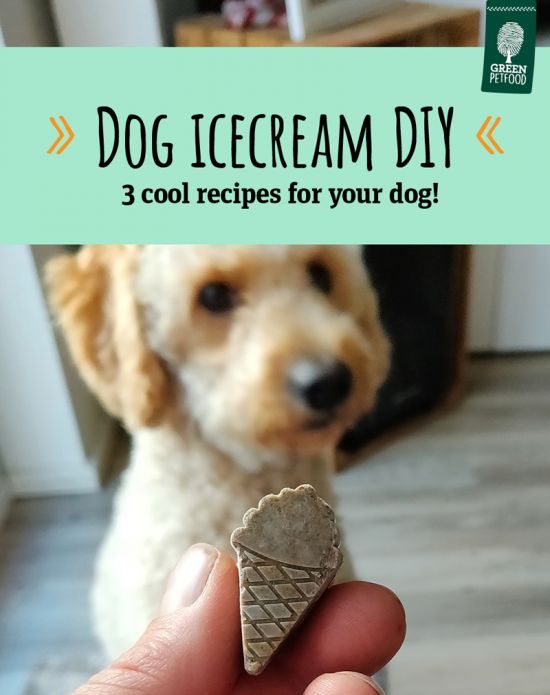 What you need to make your own dog ice cream
Here is all you need to make your own dog ice cream:
Knowledge of what your dog likes, and of course, what he can eat in case there are any intolerances.
Creativity
Ice cube tray or another shape for freezing.
Try upcycling: You could even wash out a used yoghurt pot and use it as an ice-cream mould. Alternatively, you can spoon the ice cream mixture into a toy like a Kong.
The dog ice cream is quick to make and super refreshing.
No sugar should be added to the dog's ice cream. Dairy products such as quark, yoghurt, cream or cottage cheese are better tolerated than pure cream or milk. Be careful, however, as not every dog tolerates (excessive amounts of) dairy products. This also applies to other ingredients. There are a few things that dogs should not eat, such as grapes, sultanas or avocado.
The beauty of homemade dog ice cream is that you can personalise it to suit your dog's individual preferences or intolerances. This means you can easily make homemade ice cream for puppies, old dogs, overweight dogs, sick dogs or dogs with intolerances.
Apart from that, you can pretty much let your imagination run wild. Does your dog prefer sweet or savoury treats? You may already have many of the ingredients at home, otherwise they are also easy to buy at the nearest supermarket.
Sweet or savoury dog ice cream?
Sweet dog ice cream is best made from fruit purée. Depending on your mood and taste, you can add water, curd cheese or cream cheese. There are no limits to the mix and composition.
Some dogs, however, are not that keen on fruit and prefer a savoury cooling drink. You can really win them over with a little liver sausage in a yoghurt or quark mixture or hide one of our dry food varieties in it. Whoever finds the crunchy bit gets to eat it!
Fruits and vegetables your dog can eat
Dogs are allowed to eat certain types of fruit, because they contain important vitamins and are simply tasty. Here is a brief overview of the types of fruit that dogs are allowed to eat:
Bananas
Nectarines
Apricots
Berries (raspberries, strawberries)
Pears
Apples
Coconut
Water melon
Make sure you remove any seeds from fruit before giving it to your dog.
As for humans, vegetables are also very important for dogs. They also contain valuable vitamins and minerals that are essential to keep your pet healthy. The following vegetables can be mixed into the DIY dog ice cream without any problems:
Carrots
Beetroot
Courgettes
Cucumbers
Spinach
Pumpkin
To spruce up the DIY dog ice cream, you can also mix in a few herbs. These include parsley, camomile or marigold.
Tip: seasonal & local is best!
If, like us, you place great value on regional, seasonal products, here you can find a seasonal calendar with all the fruit and vegetables your dog is allowed to eat. Not only will you be doing your dog good, but you'll also be supporting regional farmers and, last but not least, our environment!
Other things you can put in your dog's ice cream
If you would like to use something other than fruit or vegetables, the following ingredients may be useful:
vegetable stock
treats
dry food
wet food
water
oat flakes
rice
buckwheat
If your dog is overweight, you should opt for fruit and vegetables rather than dry food or oatmeal, as these are higher in calories than fruit and vegetables.
Now that you know what you can use for a super duper homemade dog ice cream: Let's get to the recipes!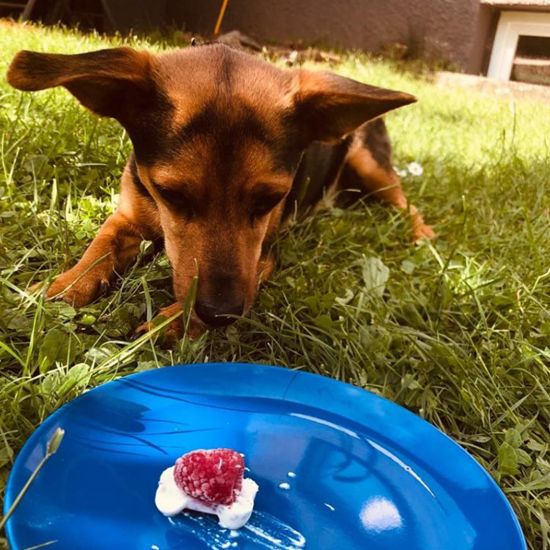 Dog Ice Cream Recipe #1: Raspberry and Quark Ice Cream
This raspberry curd ice cream sounds so delicious you'll want to eat it yourself. You need the following ingredients:
100 g raspberries (fresh or frozen)
100 g Quark
Optional: a few chopped herbs of your choice
Purée the raspberries and mix with the quark. Spoon into moulds and leave to set in the freezer. The super fruity ice cream for your four-legged friend is ready!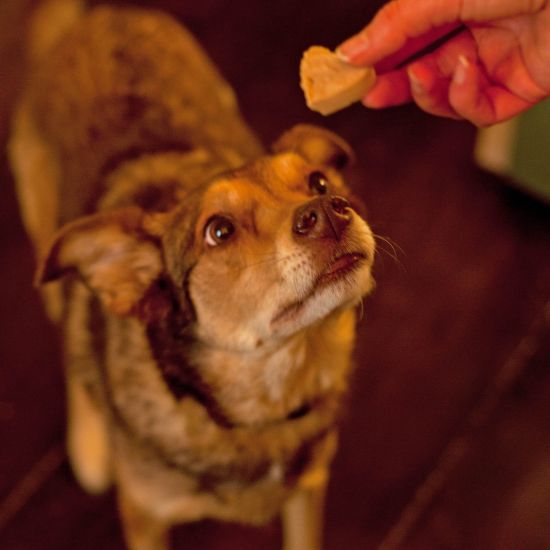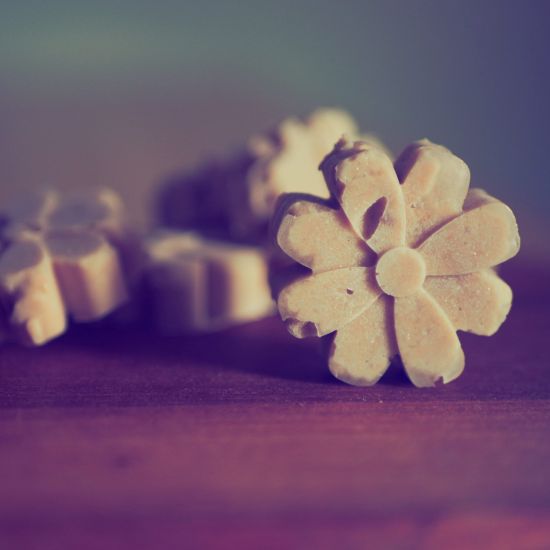 Dog Ice Cream Recipe #2: Peanut butter and coconut ice cream
Even the name sounds like a sin worth committing. Your four-legged friend will love it. The ice cream is quick to prepare and we'll show you what you need to make it:
100 g peanut butter (without sugar and extra salt, better still pure peanut butter)
50 ml coconut oil
1 banana
First mash the banana, then add the peanut butter and coconut oil and mix together.
Use a piping bag or spoon to fill your ice cream mould and put it in the freezer until it is completely solid. And voilà: a super healthy, delicious peanut coconut ice cream for your little darling!
Please bear in mind that this ice cream has a lot of calories and is therefore only suitable for overweight dogs in very small quantities.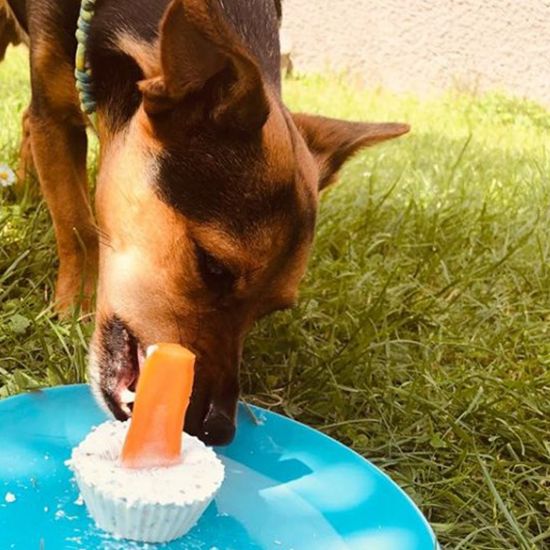 Dog Ice Cream Recipe #3: Power ice cream
As the name suggests, our Power Ice Cream gives your dog real power. This ice cream is somewhat higher in calories and is therefore only suitable for overweight dogs in small quantities. It is especially good for very active dogs with a higher calorie requirement.
For the power ice cream you need:
50 g oat flakes
50 g dry food (ideally his favourite Green Petfood variety)
25 ml coconut oil
50 g carrots
100 ml coconut milk (water optional)
Mix the oat flakes with the dry food, cut the carrots into smaller pieces (or use them as 'popsicle sticks'), pour in the coconut milk or water and the coconut oil and blend everything vigorously until you get a smooth consistency. Then fill the containers of your choice and put them in the freezer.
Tip: If you are in a hurry
Place small treats in a mould and top up with water or cream cheese. If you're in a hurry, simply freeze a raspberry or a piece of banana, etc. This cools things down and also helps to keep the food fresh. This cools you down and is also great fun to do.
What else should I consider when preparing dog ice cream?
You can prepare delicious and healthy dog ice cream for your furry friend at any time. Since your dog will be especially happy to cool down in the summer, it is of course perfect for this time of year.
Some dogs don't react well to frozen food. Once the ice cream is frozen, take it out of the freezer and let it thaw for a few minutes before serving. Especially the first time, observe very closely how he reacts to the cold snack.
In general, you should make sure that your dog does not swallow the ice cream in one piece, but licks it with pleasure and eats only small pieces at a time. Either hold the ice cream on a spoon for him to lick or put the ice cream mixture in a toy like a Kong. This way, there is no danger of him swallowing the fresh snack whole and he will be occupied with working out the reward for a while.
You also need to work out how much ice cream your dog is allowed to have. Depending on how active or overweight your dog is, you should adjust the amount and, ideally, the ingredients of the homemade dog ice cream. After all, dog ice cream is a sweet, just like human ice cream: subtract the extra calories from the daily allowance of the main meal. Not all dogs tolerate the ingredients in large quantities, so only give your four-legged friend small amounts of ice cream at a time. This way, he can look forward to another helping of dog ice cream!
So, dear dogs and dog owners: Have fun making the dog ice cream and wiping up afterwards!