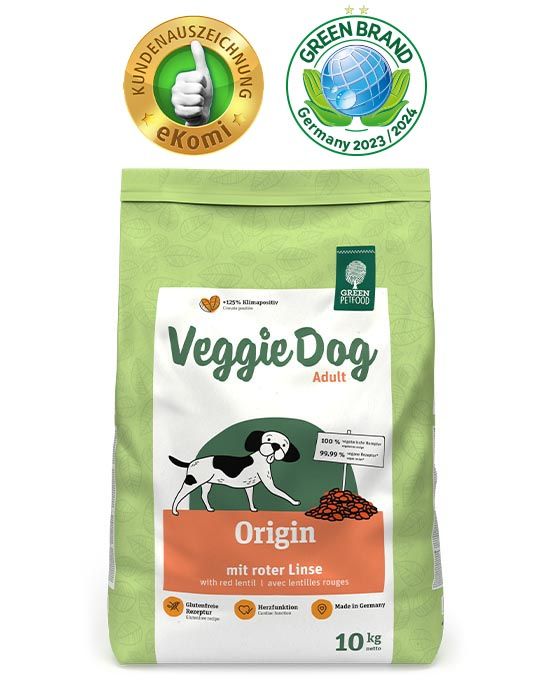 VeggieDog Origin
with red lentil
Gluten-free complete food with red lentils for sensitive adult dogs

100% vegetarian, 99.99% vegan (contains 0.01% Vitamin D3 from lanolin)

Taurine and L-carnitine support the functioning of the heart while valuable antioxidants can combat cell ageing.

Climate-positive: through our forest conservation project in Tanzania, we compensate for 125% of our CO2 emissions.
Fit as a fiddle all through life: With its vegetarian, glutenfree recipe, VeggieDog Origin provides your adult canine with all essential nutrients. Tasty red lentils provide your pooch with important amino acids. Taurine and L-carnitine are beneficial for your four-legged friend's heart, and valuable antioxidants can help prevent cell-aging. On top of it all, thanks to VeggieDog Origin, your four-legged friend can help make the world more sustainable every day!
100% vegetarian
99,99 % vegan*
*contains 0,01% vitamin D3 from wool fat
Download product information:
rice; potato protein; dried red lentil 10.0 %; plant oil; beet fibre; minerals; partially hydrolysed yeast; apple fibre; hydrolysed vegetable protein.
Vegetarian is possible because…
compared to wolves, dogs are better equipped to digest food that is rich in starch (increased enzyme production)
thanks to a clever combination of different kinds of vegetable protein, dogs can potentially cover their nutritional needs even better than with meat-based protein
dogs have been evolving at man's side for thousands of years, making them better adapted to human living conditions
Feeding recommendation per animal per day