Grain-free cat food
Cat food containing no grain is not a passing fad or sign of fussiness. Unlike dogs, which have been domesticated for thousands of years, cats are classic carnivores and are less able to digest grain. Cats naturally meet their high protein requirements almost exclusively from animal protein. FairCat meets the discerning needs of your cat.
Grain-free through the day: are cats pure carnivores?
Unlike dogs, which can adjust relatively well to a wide range of foods, cats are natural carnivores. Despite domestication and a partial adaptation of their gastrointestinal tract, grains are not a natural part of their diet and can only be digested to a limited extent. Cats have a small intestine that is excellent at processing fat and protein but is less good at breaking down the starch contained in grains. Just like their wild cat predecessors, today's house cats enjoy hunting small mammals, birds or reptiles.
Meat is the main source of the essential amino acid taurine for cats. A taurine deficiency can cause serious illnesses, such as heart disease, irreversible retinal pathologies, infertility, foetal abnormalities, hearing loss or deregulation of the immune system. In short: if you want to feed your cat properly, animal protein should always make up a large proportion of meals. Plant-based components can, of course, be served as a garnish. FairCat is a grain-free cat food that leaves nothing to be desired.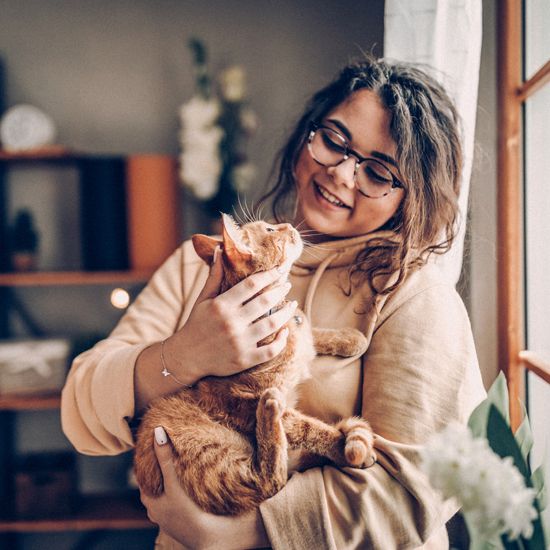 What do you need to know about grain-free cat food?
If cat food contains too high a proportion of plant-based ingredients, this can make the urine too alkaline, which in turn can encourage the formation of urinary crystals or stones.
We avoid this problem with our Green Petfood cat nutrition based on sophisticated recipes: a balanced mineral composition with the help of the essential amino acid methionine aims to prevent the development of urinary stones.
We also use extrusion to predigest the plant-based components. A brief heating process helps break down the starch, making it easy to digest while retaining the important nutrients. This means our cat food is not just gluten free and grain free, but also easily digestible.
And it is sustainable too: the sachets of wet food contain exclusively poultry from a more species-appropriate husbandry, combined with salmon from sustainable fish farms or insects as an innovative source of protein.
When is cat food grain free?
As an alternative source of carbohydrate and fibre, grain-free cat food contains plants that are high in starch, such as potatoes, pulses (like peas), or the so-called pseudograins, like amaranth, quinoa or buckwheat. The grain-free dry food variety FairCat Vital uses a recipe that has been optimally formulated to provide your cat with all the nutrients it needs. In addition to the main ingredient, which is ethically farmed chicken, your cat is served added extras in the form of a healthy mix of potatoes, peas and lentils, enhanced with valuable antioxidants, pre-biotic inulin and essential taurine.
Does grain-free cat food (dry or wet) always contain lots of meat?
There is a widespread belief among cat owners that "grain free" essentially equates to "meat-based". But a grain-free recipe does not automatically mean a higher proportion of meat. Some manufacturers replace the grain with large quantities of other sources of starch to reduce the amount of expensive meat used as an ingredient. There are lots of brands on the market (grain-free dry food for cats is often a good example) that contain rather cheap fillers instead of large quantities of meat, fish and other high-quality ingredients. At Green Petfood, we have set ourselves the green target of using exclusively top-quality ingredients, mostly regional products, and meat from responsible sources. So, our FairCatSafe dry food features environmentally-friendly insect protein and poultry as well as easily digestible rice.
Our grain-free sachets also have a high meat content. All FairCat wet food varieties from Green Petfood are grain free and your cat will love the 70% meat content, like in FairCat Happy, or a combination of meat and fish, like in FairCat Beauty. There is an added bonus that will particularly please environmentally friendly owners: our chicken meat and fat come from ethical farms in South Germany, while the salmon is reared under organic aquaculture conditions. So, every time you open a pack of food, you are supporting sustainable farming and ethical livestock rearing.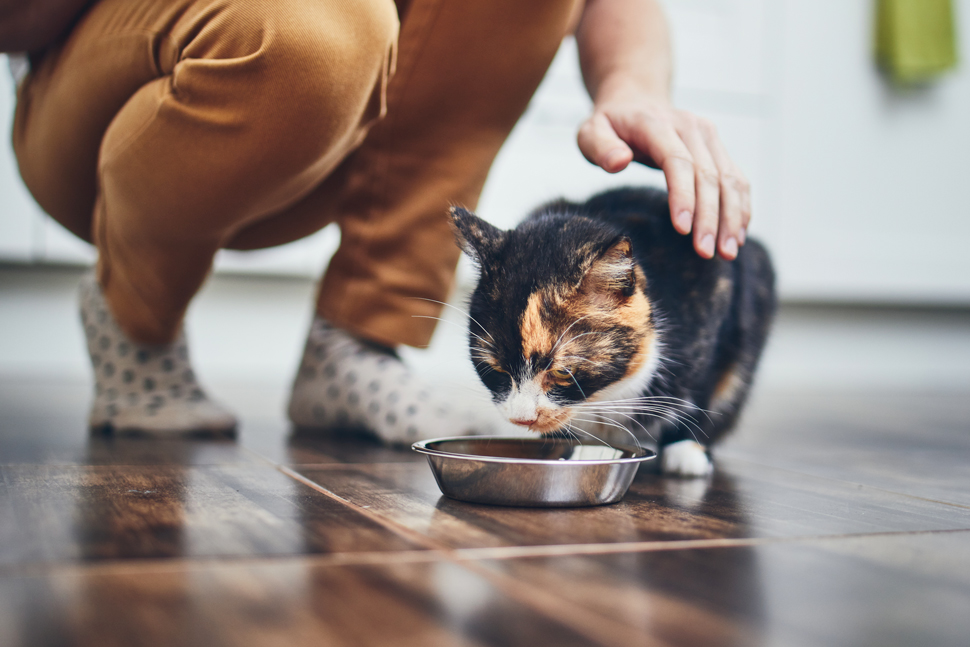 What food is best for your cat: dry or wet food?
Maybe you are wondering whether you should be giving your cat wet or dry food? Or can you simply mix the two together? We have the answer for you: A cat can be fed entirely with either wet food or dry food provided this is a high-quality, nutritious, complete feed. Many cat owners opt to use a combination of wet and dry food to enjoy the benefits of both feeding methods.
Wet food is exactly what the name suggests: it usually has a moisture content of about 80%. This ensures even cats who are reluctant to drink get enough liquid. When it comes to nutrients, a high-quality complete dry feed is just as good: once again this contains all the essential nutrients your pet needs. Crunchy croquettes help support daily dental hygiene and can be dispensed throughout the day in the cat's bowl without spoiling.
What is the right way to combine wet and dry food?
Every cat is unique – and has its individual food preferences. That is why there are various options for combining wet and dry food. The important thing is to stick to the same manufacturer when mixing wet and dry food. This way, you can be sure the products are ideally coordinated to promote your cat's health and well-being.
To cover the daily energy requirements of a cat with an average weight of 4kg, you can use our rough rule of thumb: 40g of FairCat Safe or FairCat Vital dry food plus 1 pouch of your choice from the FairCat wet food selection. Whichever feeding method you choose, always keep an eye on your cat's overall energy intake. This ensures you avoid your cat becoming overweight and is a key factor in their health.
Method 1:
You can offer your cat wet food in the morning, before providing the appropriate quantity of dry food over the course of the day. This remains palatable in the bowl for longer if the person who can open the tins of cat food is not at home for a while. Your cat can control its portions itself, or you can assign this task to an automatic feeder. For particularly greedy cats, who sometimes "inhale" their food, you can divide dry food into morning and evening portions. An even better approach is to feed lots of small portions over the course of the day because this comes closest to cats' natural food intake patterns.
Method 2:
A peek in the bowl, a little lick, then turn away disgusted. Fussy cats are sometimes unenthusiastic when it comes to dry food. But lots of cat owners are keen for their pets to enjoy the dental care benefits of dry food. In this case, you can simply mix the wet food into the dry food. Make sure any uneaten leftovers are removed and the bowl is cleaned thoroughly afterwards.
What are the benefits of grain-free cat food?
If you are wondering whether grain-free cat food is more of a duty than a pleasure, here are a whole host of benefits. Provided the food is high quality, like Green Petfood, a grain-free diet promises the following for your cat's life:
easy to digest
supply of taurine through meat
close to the cat's natural diet
rich in protein thanks usually to the higher meat content
possibly low in carbohydrate due to fewer plant-based ingredients
can lower blood sugar levels
has a preventative effect against urinary crystals
gentle on the stomach
What are the risks posed by grains in cat food?
Just like the saying "Is your glass half full or half empty", alongside our positive perspective on the grain-free diet, we can risk a rather negative view of grains in cat food. The fact is that, in the same way as for other sources of protein, any kind of grain can trigger an allergy or intolerance, as can potatoes, peas and other plant-based ingredients. If your pet develops an allergic reaction, switching to a grain-free feed may help your cat get rid of the symptoms. However, animal ingredients in food are a much more common trigger for food intolerances and must also be considered.
Is grain-free cat food suitable as a complete feed?
Since cats do not need any grain in their food throughout their lives, a grain-free variety is a good option for a complete feed. In addition to the "grain-free" description, however, the following are also important:
the quality of the ingredients
carefully coordinated ingredients, including micronutrients, vitamins, minerals and trace elements
the highest possible quality animal ingredients
no added sugar, attractants or colourings
no GM ingredients
All Green Petfood wet and dry foods are classified as complete feeds and will ensure your cat has a healthy, enjoyable diet!
First grain-free cat food with a positive ecological balance
FairCat is full of fairness, happiness, and love! We exclusively use the very finest quality ingredients in our cat food. These products are – of course – developed without the use of animal testing and are produced without genetically-modified ingredients. With FairCat, you are purchasing a tried-and-tested quality product that has been produced in Germany.
In line with our motto, "Greenify our future", we place great value on sustainability and climate protection. That is why we are involved in selected environmental and social projects. Our CO2 emissions are completely offset thanks to a forest conservation project in Tanzania. This means we can stimulate oxygen production for our beautiful world, while also protecting the habitat for endangered species. The result: we absorb more CO2 than we need to offset our CO2 consumption; 25 percent more to put it precisely.
Important criteria for Green Petfood cat food:
Positive climate footprint thanks to forest conservation in Tanzania
Simple blended concept of dry and wet food
Free from wheat and added sugar
Free from artificial colourings and flavourings
Free from genetically-modified ingredients
Not tested on animals