Green Petfood
The first truly "green" dog and cat food
Here at Green Petfood, we have conquered our own Mission Impossible. We offer products with real added value that are humane and environmentally friendly.
Forging new paths and breaking up old structures means critically questioning the status quo, and offering brave and targeted solutions.
As we have done this, we have always remained mindful of our mission: to develop sustainable products for dogs and cats, but also for our planet.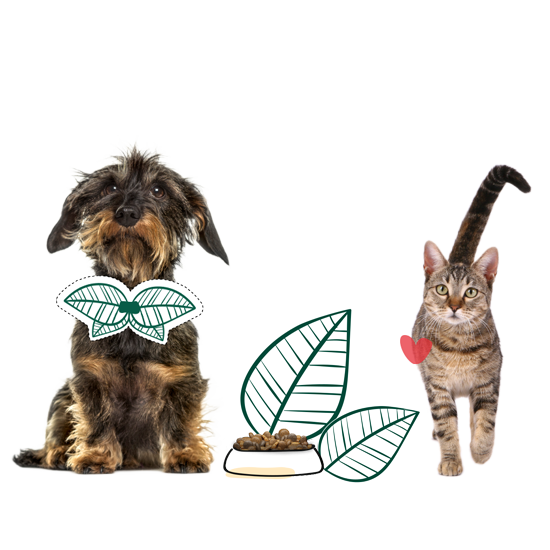 Green Petfood: sustainability experts and problem solvers in one
With Green Petfood, we have created an innovative and ecological alternative for you, which isn't just sustainable but is also suitable for sensitive pets.
Does your dog have an allergy to animal feed or an intolerance? Is your four-legged friend always scratching? Is your cat a sensitive soul? If you have asked yourself these questions, you're in the right place with us.
It started with a controversial idea. We wanted to combine sustainability and pet health. The number one ingredient in dog food was meat, which is rarely compatible with sustainability. To start with, our idea of creating dog food with reduced meat content was laughed at: but with our determination and experienced nutritional experts, we managed to develop the first vegetarian complete feed for dogs.
We had created something that was unique, especially in the dog food sector.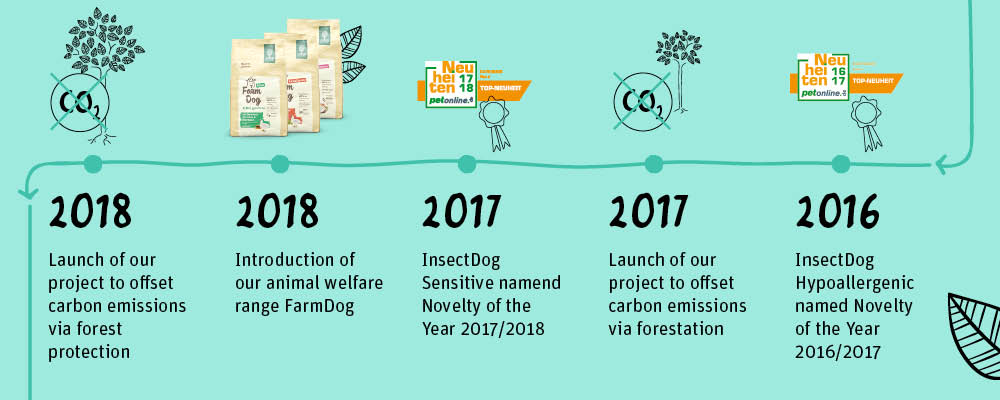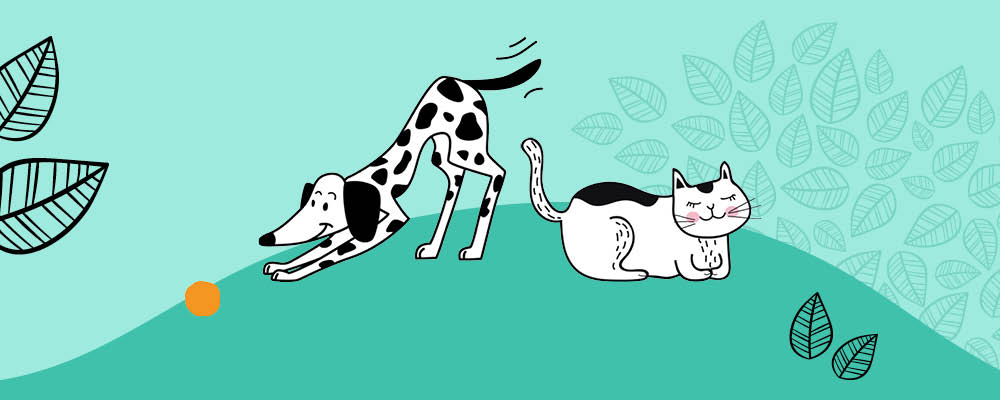 As part of a family business, we have gained experience in the animal feed sector since 1940 and have always turned new ideas into reality. Right from the start, here at Green Petfood we have developed high-quality products with unusual recipes, combining scientific knowledge with innovation and sustainability. As you can see, when we do something, we do it properly. Our journey is far from over: join us, and make the impossible possible.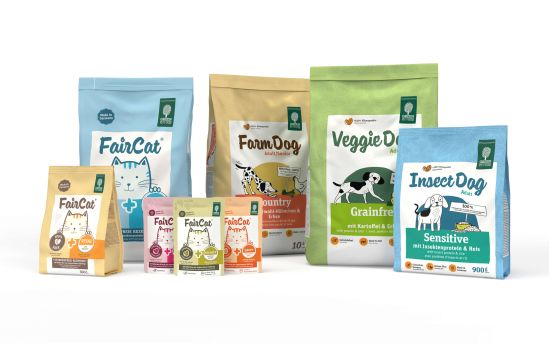 Conventional animal feed vs Green Petfood
​We stand out from other animal food producers because we are sustainable and innovative, and because our Green Petfood recipes are extraordinary. We offer meat-free dog food (VeggieDog), meat-based food (FarmDog/FairCat), and insect-basedfood (InsectDog). Whichever Green Petfood you select, you and your four-legged friend will help make the world a slightly greener place, every day!
Do you want to know what exactly distinguishes us from conventional pet food? Then keep reading here.
more
What can Green Petfood do?
Our Green Petfood products provide alternative protein sources derived from peas, lupin beans, insects or poultry and salmon; so there's something for everyone! We developed our dog and cat food together with experienced nutritional scientists to ensure that your four-legged friend receives all the nutrients they need.
What else does it contain?
Our simple recipes are made using exclusively high-quality ingredients, which we obtain primarily from regional suppliers. All incoming ingredients and outgoing products are tested in our in-house accredited laboratory. The independent DLG TestService GmbH has also tested our entire production process and awarded us with the assessment "VERY GOOD".
Our recipes only contain the things your pet really needs.
We don't use any wheat or added sugar.
We do not use any artificial colourants, flavourings or genetically-modified ingredients.
We do not carry out any animal testing in the development of our food.
Thanks to our consistent work on our products and sustainability, we have already won several awards.
A peek behind the scenes
Here at Green Petfood, we want to do the best we can for our four-legged friends and for the world in which they live. For precisely this reason, in all of our products we combine animal health with sustainability. Take a look at how our food is produced and what the science says about it!
In the following, you can find out exactly what VeggieDog, InsectDog, and FairCat are all about: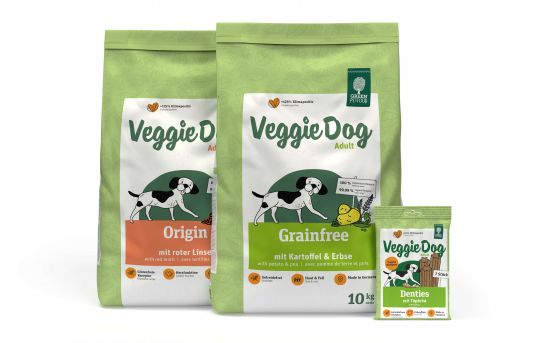 VeggieDog
With VeggieDog, we have created a milestone in dog nutrition, as it 100% vegetarian and 99.99% vegan. With VeggieDog, we offer the possibility of giving your dog the best - WITHOUT meat. All ingredients are complementary and give your four-legged friend everything they need.
Why dogs can receive a vegetarian diet
Compared to wolves, dogs are much better equipped to digest starchy food (increased enzyme release)
Through the clever combination of different plant-based proteins, your dog's needs can actually be more effectively met than through meat proteins
For millennia, dogs have evolved at the side of humans, which has caused them to adapt to our living conditions
DISCOVER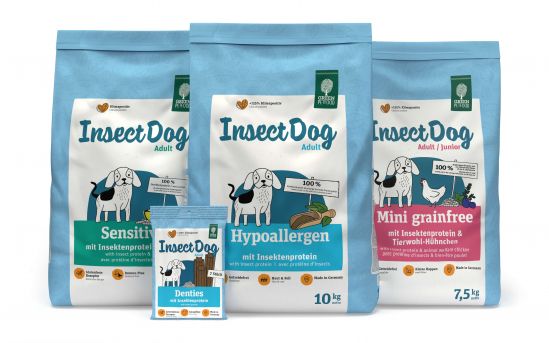 InsectDog
With InsectDog, we have created another alternative for providing your dog with all the nutrients they need. Insects are rich in protein and their cultivation is significantly less harmful to the environment and more cruelty-free than the conventional farming of cattle or pigs
Why insects?
They offer the perfect basis for hypoallergenic food, as they represent a rarely used and high-quality protein source in dog food
Compared to many other animal protein sources, insects are a highly sustainable alternative as their cultivation generates significantly less CO2
They don't just provide your dog with high-quality protein - they also deliver valuable fatty acids too
DISCOVER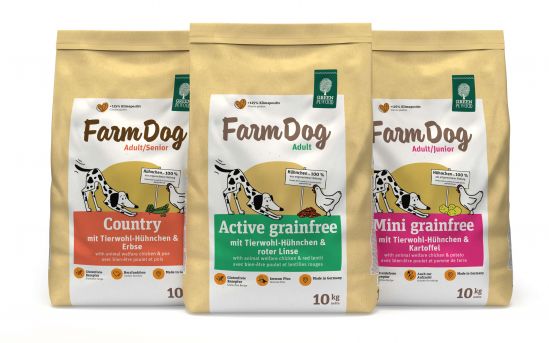 FarmDog
With FarmDog, we wanted to create a solution for dog owners who want to feed their pet meat without compromising on animal welfare or a species-appropriate husbandry.

Why does our FarmDog chicken live more species-appropriate?
They have 30% more space
Our FarmDog chickens live in a natural barn structure, offering enrichment opportunities such as pecking stones and straw bales, winter gardens or open barns, perches and bedding for scratching and sand-bathing
These chickens grow much slower than chickens that are conventionally bred
No genetically-modified feed is used
DISCOVER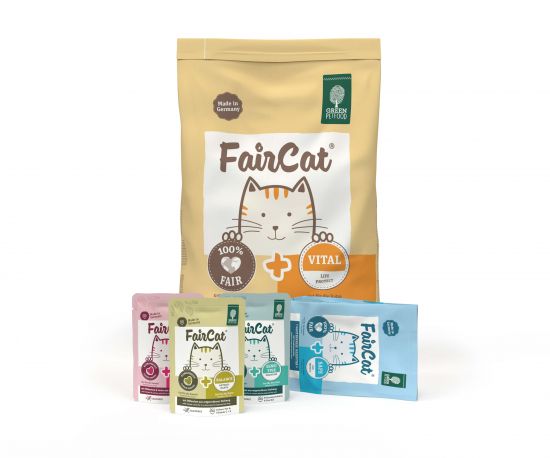 FairCat
FairCat is made with fairness, happiness, and love. Because for our cat food we only use poultry and salmon as well as insects, for high-quality and environmentally-friendly protein sources. Topped off with clever finishing touches, there's something for every taste.
The advantages of FairCat at a glance: