On your marks, get set, go meat free!
VeggieDog
Grainfree
This vegetarian, cereal-free recipe with potatoes and peas provides your adult four-legged friend with all the nutrition they need.
from 4.49€ per kg
Go to the product
VeggieDog
Origin
This vegetarian, gluten-free recipe with red lentils provides your adult four-legged friend with all their nutritional needs.
from 3.99€ per kg
Go to the product
Why is VeggieDog the right choice for you and your four-legged friend?
VeggieDog provides your pet with all of the nutrients they need to keep them as fit as a butcher's dog. All of our food varieties are complete feed, which we developed together with nutritional scientists.
VeggieDog is made completely without animal protein and is therefore cruelty-free and environmentally friendly.
Do you have a pet with allergies, who reacts badly to all protein sources of animal origin? Then VeggieDog is the perfect solution for you.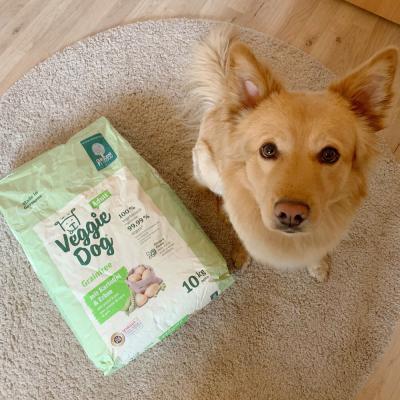 Michaela with Odi from Magdeburg
"Because I live a cruelty-free, sustainable, and environmentally-friendly life, my dog's environmental paw print should also be as small as possible. Thanks to Green Petfood and its VeggieDog food, Odi is perfectly nourished and can enjoy his life to the full. I also know that I can stand behind the products that my dog receives and deserves, with a good conscience. And the best thing of all? He loves the taste - HURRAH!"
"But dogs are descended from wolves!" Okay, this may be true, but we're talking about a very long time ago. Over the course of their evolution, dogs have changed significantly and adapted to the lifestyle of humans. Compared to wolves, dogs are better equipped with enzymes that are necessary for the decomposition of starch. Dogs can therefore easily absorb and digest plant-based foods. Your pet requires protein, but this doesn't need to come from meat.
Perfectly nourished
With our vegetarian VeggieDog food, which was formulated together with nutritional scientists in line with international nutritional specifications, your adult dog is perfectly provided with all the necessary nutrients. Did you know that the oldest dog in the world lived on a vegan diet? You can find more information about why a vegetarian diet is possible here. There are also a few other reasons for feeding your four-legged friend a vegetarian or vegan diet.
Intolerances to animal protein
Maybe you have a pet that has an allergy or a food intolerance. Intolerances are always related to protein structures. Unfortunately, it is becoming increasingly common for dogs to have an allergic reaction to all kinds of proteins, requiring a food with a previously unfamiliar protein source. Some pet owners turn to kangaroo or ostrich meat. But there's no need to commit these environmental sins: with purely vegetarian food, you can feed your pet sustainably!

Love for animals and protection of the climate
Do you belong to the ever-growing number of people who are paying more attention to their diet and health, and maybe even opting for a vegetarian or vegan diet? Are you unhappy about other creatures giving up their life for your four-legged friend? Scientifically, there's no reason for your dog not to become vegetarian too. So why not turn your pooch into a real animal lover too?
Aside from ethical reasons, giving up meat is also a great way to protect the environment: while the production of 1kg of beef requires 15,000 litres of water for example, only 1,300 litres are required for 1kg of potatoes. So feeding your dog a vegetarian diet means that you can do your bit to protect our environment.
"Thanks to VeggieDog, I can even feed my pet, Findus, on a vegetarian diet."
Anna H.