InsectDog
Hypoallergenic
Our hypoallergenic, cereal-free recipe made using insects, potatoes, and peas is perfect for adult dogs with allergies, and climate heroes.
from 4.99€ per kg
Go to the Product
InsectDog
Sensitive
This easily digestible and gluten-free recipe containing insect protein and rice is ideal for adult pooches with sensitivities, and climate heroes.
from 3.99€ per kg
Go to the Product
Why is InsectDog the right choice for you and your four-legged friend?
InsectDog provides your pet with all of the nutrients they need to keep them as fit as a butcher's dog. All of our food varieties are complete feed, which we developed together with nutritional scientists.
Be a climate hero: InsectDog contains insects, which are THE protein source of the future! Compared to many other animal protein sources, the breeding of insects is significantly more environmentally friendly.
Do you have a pet with allergies, who reacts badly to all protein sources of animal origin? If so, InsectDog may be the perfect solution for you, as insects are a rarely used and high-quality source of protein in dog food.
In the western world, insects are still likely to provoke a certain sense of disgust. But this is all a
question of mind over matter
, because for 2 billion people worldwide, insects are already firmly on the menu. Our sense of disgust is influenced above all by our cultural background and the society we live in.
Liberate yourself from these restrictions and step out of your comfort zone!
Because insects are an incredibly high-quality source of protein for both humans and dogs. Alongside the highest grade of protein, insects also offer valuable fatty acids that support your four-legged friend's skin and coat. But there are also many other reasons for feeding your pooch a diet based on insect protein.
Save the environment!
In Europe, more and more people are trying out this source of protein in the context of human nutrition. Against the background of impending food shortages as well as the environmental problems associated with conventional livestock farming, insects are considered the protein source of the future.

In our explanation video, you can find out why creepy crawlies are so good for the planet; or you can read on to find more information.

Allergy-sensitive dogs - when nothing else works
Maybe you have a pet that has an allergy or a food intolerance. Intolerances are always related to protein structures. Some pets simply react to everything and everyone, and therefore require food that contains rarely-used sources of protein. Some pet owners turn to kangaroo or ostrich meat. But there's no need to commit these climate sins: what about high-quality insects, which also provide valuable fatty acids? Most probably, they have never found their way into your dog's bowl - until now!
Find out more about our InsectDogs and their storys!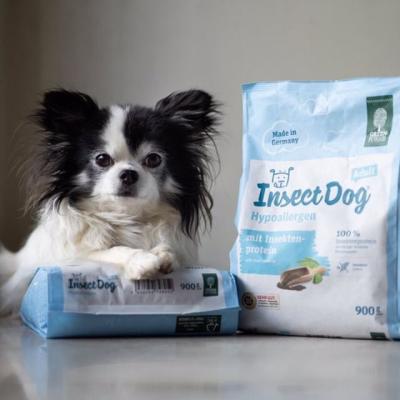 Agnes with Louis from Jülich
"Louis is highly sensitive to allergies. He was always scratching and his fur was dull and falling out in clumps. Since receiving InsectDog as his main food and VeggieDog as treats, we haven't had any more problems with his allergies and Louis feels as happy as Larry again."
"Thanks to InsectDog, Diesel's coat is shining again!"
Mirjam L.