A question of cultivation!
FarmDog
Active grain-free
This cereal-free recipe with animal welfare chicken and red lentils is ideal for lively, adult dogs.
from 4.49€ per kg
Go to the Product
FarmDog
Country
This gluten-free recipe with animal welfare chicken and peas won't just delight adult pooches - it will also be a favourite with senior dogs too.
from 3.99€ per kg
Go to the Product
FarmDog
Mini grain-free
This cereal-free recipe with animal welfare chicken and potatoes isn't just perfect for small breeds - it is suitable for rearing all breeds.
from 4.99€ per kg
Go to the Product
Why is FarmDog the right choice for you and your four-legged friend?
FarmDog provides your pet with all of the nutrients they need to keep them as fit as a butcher's dog. All of our food varieties are complete feed, which we developed together with nutritional scientists.
Make a stand for animal welfare: with FarmDog, we only use chickens living more species-appropriate from regional suppliers. The animals are raised by committed farmers from southern Germany, who care about the welfare of their chickens.
Do you have a sporting ace, a puppy, or an elderly dog? With our FarmDog products, you can feed your four-legged friend sustainably while also meeting all their needs.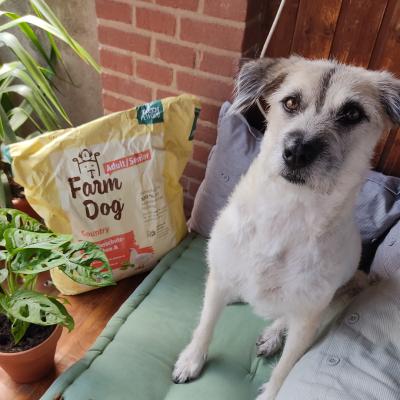 Jessi with Greta from Münster
"When we got Greta, I found myself - as a committed vegetarian - confronted by a completely new challenge: from the outset I knew that I didn't want to feed Greta a meat-free diet, but I needed to find a way to reconcile this with my conscience. Alongside the welfare of all creatures, the ecological footprint created by me and my dog is also very important to me. For us, FarmDog is a solution that ticks all the boxes."
Let's promote animal welfare together
Since 2013, we have been committed to the theme of sustainability and to alternative protein sources. With VeggieDog and InsectDog, we had already done pioneering work before the launch of the Fridays for Future movement. So we believe that it is our duty to continue promoting sustainability and animal welfare, especially in the pet sector.

Happily, the idea of conscious consumption has already gained traction in many households where meat is on the menu: 88% of the German population believes that the breeding of livestock such as poultry, cattle, and pigs should be more humane. More and more people who feed their four-legged friend animal protein want to know where this comes from and how the animals have been raised. In addition to a trustworthy and preferably regional supply source, they attach great importance to breeding conditions such as space, feeding and the medication of the animals.
Your pet can do their part for animal welfare too!
With FarmDog, we have created a dog food that fulfills precisely these requirements. Because with FarmDog, we only use chicken from a more species-appropriate husbandry. The birds grow slowly and in natural conditions, raised by regional and committed farmers who care about animal welfare. No genetically-modified feed is used at all.

In our explanation video, you can see exactly what the life of the chickens looks like.

Here, everything is hunky-dory.
The criteria for humane cultivation were developed together with the German Humane Society. All of our partners' farms are located in Bavaria and Baden-Württemberg. They are subjected to regular and unannounced checks by the independent inspection authority "QAL". We as a team were also impressed by the improved living conditions on site.
Would you like to gain more insight into our chickens' living conditions? Then keep reading here.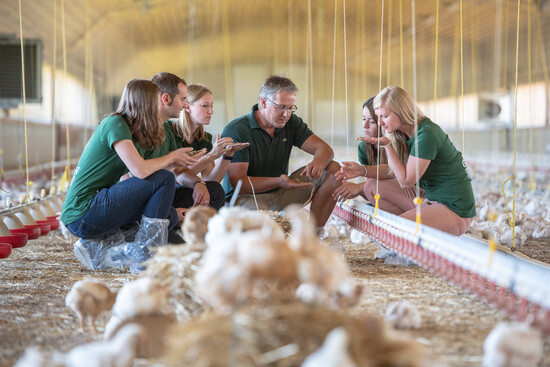 "With FarmDog, things are finally looking up for our little Charly!"
Katharina M.