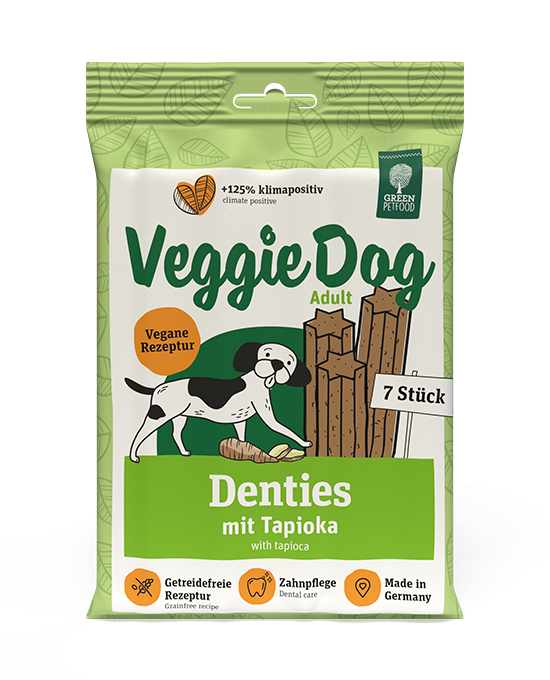 VeggieDog Denties
The sustainable vegan chew for clean teeth
The best of both worlds: sustainability and dental care combined.
Clean teeth: cellulose supports everyday dental hygiene, the star-shaped design helps massage the gums.
Veggie on four paws: vegan, grain-free recipe.
Climate-positive: through our forest conservation project in Tanzania, we offset 125% of our CO2 emissions.
How can you combine dental hygiene with saving the planet? The answer is our new Green Petfood VeggieDog Denties for your four-legged friend! These grain-free chews are the perfect complement for our popular VeggieDog products – which is why they have been named accordingly. The great thing is, these Denties are 100% vegan! We developed them with the help of nutritionists and veterinarians – in Germany and only with the very finest ingredients. The result is a green superhero that promotes chewing thanks to its star-shaped design and contains cellulose to offer exceptional support for everyday dental hygiene – with gum massage included!
Delicious tapioca means we can completely avoid meat in this product, so every Denti is a green miracle that takes care of your dog's teeth and is also well tolerated by sensitive pets. Ready to save the planet AND your pet's teeth? Off we go!
dried tapioca 40.0 %; dried potato; glycerine (of vegetable origin); potato starch; cellulose 4.0%; hydrolysed yeast; minerals
Vegetarian is possible because…
compared to wolves, dogs are better equipped to digest food that is rich in starch (increased enzyme production)
thanks to a clever combination of different kinds of vegetable protein, dogs can potentially cover their nutritional needs even better than with meat-based protein
dogs have been evolving at man's side for thousands of years, making them better adapted to human living conditions