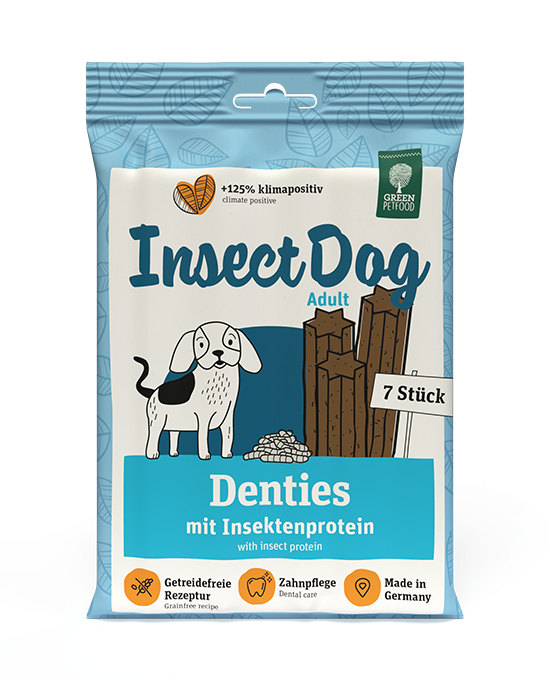 InsectDog Denties
The sustainable chew with insect protein for clean teeth 
The best of both worlds: sustainability and dental care combined.
Clean teeth: cellulose supports everyday dental hygiene, the star-shaped design helps massage the gums.
Sustainable great taste: with environmentally friendly insect protein as a unique source of animal protein.
Climate-positive: through our forest conservation project in Tanzania, we offset 125% of our CO2 emissions.
With the new InsectDog Denties from Green Petfood, you are supporting our planet – and your dog's teeth! We developed these sustainable, grain-free dental chews with the help of nutritionists and veterinarians – in Germany and only with the very finest ingredients. Of all the dog chews, this green superhero promotes chewing thanks to its star-shaped design and contains cellulose to offer exceptional support for everyday dental hygiene – with gum massage included! ​
Thanks to the insect protein, these delicious chews are not just great for your dog but for the planet too: insects require far fewer resources than conventional sources of animal protein. And there is another fantastic bonus: even sensitive pets can often tolerate insect protein very well. Ready to save the world AND your dog's teeth? Off we go!
dried potato; dried tapioca; insects 14.0 %; glycerine (of vegetable origin); potato starch; cellulose 4.0 %; minerals
Why insects? Because insects…
are an ideal basis for hypoallergenic food because they have so far been rarely used as a high-quality protein source in dog food
are a very sustainable alternative compared to other animal-based protein sources because the way they are raised produces far less carbon emissions
provide the dog not only with high-quality protein, but also with valuable fatty acids