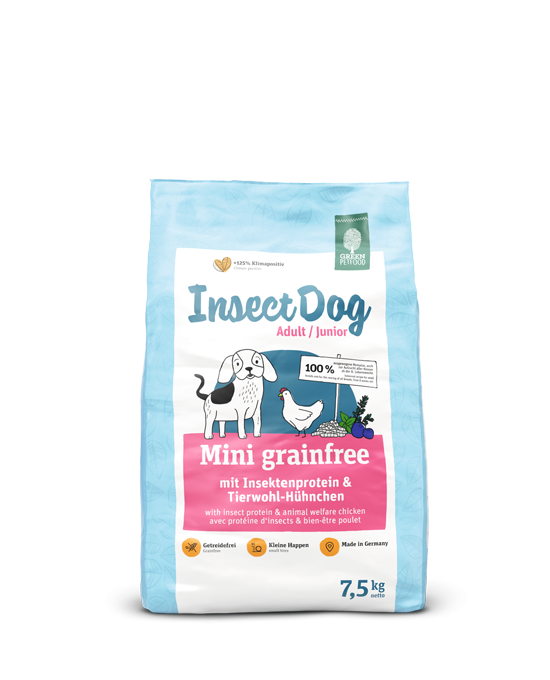 InsectDog Mini grainfree
with insect protein & animal welfare chicken
Extra small bites: optimised croquette size for small dogs

Recommended for four-legged friends with allergies: grain-free recipe that is well tolerated

Delicious premiere: first rearing feed with insect protein, from 8 weeks old

Climate-positive: through our forest conservation project in Tanzania, we compensate for 125% of our CO2 emissions.
Extra small bites, extra delicious taste! Thanks to its extra-small croquette size, our InsectDog Mini grain-free feed is suitable for all small four-legged friends from 8 weeks of age, who want to eat sustainably. Thanks to its grain-free recipe, this complete food is well tolerated and will be popular with sensitive small dogs. And the best bit? This is the first rearing feed with insect protein. That makes it unique on the market, by the way.
Four-legged pioneers take note: insects are THE sustainable protein source of the future and our humane chicken is reared in more natural living conditions. So your dog can do their bit for animal welfare and the protection of our planet!
Download product information:
dried chicken protein from a more species-appropriate husbandry 21.0 %; dried potato; pea flour (natural source of amino acids); chicken fat from a more species-appropriate husbandry; potato protein; beet fibre; insects 6.0 %; dried sweet potato; dried red lentil; partially hydrolysed yeast; minerals; ground chicory root (natural source of inulin); herbs, fruits.