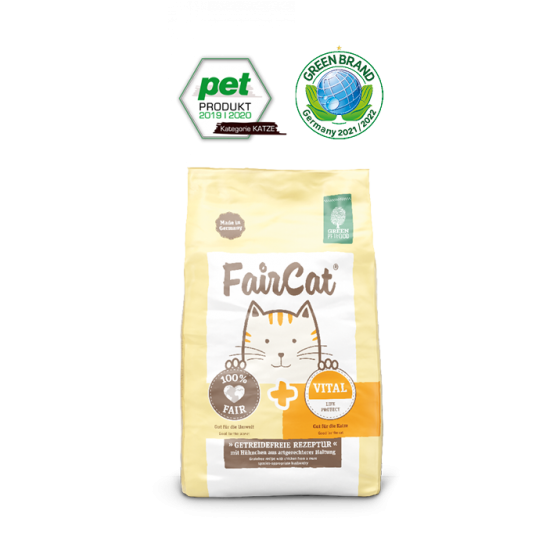 FairCat Vital
with chicken cared for in a more speciesappropriate way
Complete food with a grain-free recipe for your adult feline friend

The unique Life Protect mixture supports fitness and well-being

Climate-positive: through our forest conservation project in Tanzania, we compensate for our CO2 emissions.
Our FairCat Vital provides your feline friend with the whole range of nutrients needed to live all 9 lives to the fullest. Our unique Life Protect mixture, consisting of valuable antioxidants, prebiotic inulin and essential taurine, helps your adult tiger feel fit and happy. Thanks to the grainfree recipe, you not only do your cat good but also help make the world more sustainable every day: because this fair meal is even climate positive and contains only protein from animals raised in a more species-appropriate way.
FairCat Vital - Complete feed for adult cats.
Packaging size: 300 g, 5 x 300 g, 7.5 kg
100 % fair
Life Protect
Download product information:
dried chicken protein from a more species-appropriate husbandry 30.0 %; dried potato; pea flour (natural source of amino acids); chicken fat from a more species-appropriate husbandry 8.9 %; beet fibre; potato protein; dried red lentil; partially hydrolysed yeast; ground chicory root (natural source of inulin).